Be a Superhero and Optimize AX Today!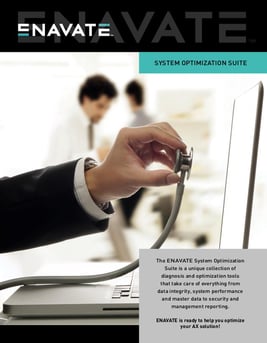 Are you experiencing slow system response times? Are you getting errors that are unexplainable? Do you not trust the data coming out of your system? Join us Tuesday, April 4th and Thursday, April 6th, and learn from ENAVATE's ESOS expert, Joe Murillo, who will provide an overview of our System Optimization Suite of tools and take you through a demo of the Health Check and Business Care solutions.
You don't want to miss out on an opportunity to learn how to be a superhero at the office by combining the power of Health Check and Business Care to optimize your AX system today!