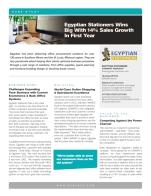 Wholesale Distributor Wins Big With 14% Sales Growth In First Year
Egyptian has been delivering office procurement solutions for over 130 years in Southern Illinois and the St. Louis, Missouri region. They are very passionate about helping their clients optimize business processes through a vast range of solutions, from office supplies, space planning and furniture ...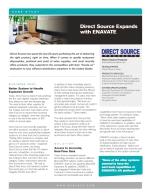 Direct Source Expands with ENAVATE's Dynamics AX Solution
Today, Direct Source doesn't look anything like the cash register supplies distributor they started as over two decades ago. The need to stock other supplies for national restaurant customers such as TGI Fridays and Joe's Crab Shack drove Direct Source to expand their business category by category, ...