Many companies are looking for ways to reduce their need for printing and mailing paper checks.
Whether for environmental reasons, security reasons or health and safety reasons, moving to an electronic funds transfer (EFT), can reduce the risks and downfalls associated with paper checks. With EFT payables for Dynamics GP, companies can switch to EFT instead of using paper checks. This has benefits for both the company and the vendor:
Benefits for the company: EFT eliminates the need for and associated costs of cutting and mailing paper checks, including time. It limits the potential for human error inherent in the process, and frees up staff to work on more complex tasks.
Benefits for the vendor: Moving to EFT cuts out the need for vendors to wait for the check in the mail, visit a bank to make a deposit, and wait for the check to clear. Instead, vendors receive their payment overnight through EFT and an automated clearinghouse (ACH).
Getting Started with EFT for Payables in Microsoft Dynamics GP
Luckily, all U.S. banks use the same format for EFT — although some minor tweaks may be required. The out-of-the-box Dynamics GP module comes equipped to comply with NACHA formatting, a payment instruction file that stands for National Automated Clearing House Association.
It doesn't take much time or effort to build these files to spec for each individual bank. Usually, companies can roll out a transition to electronic check processing within a matter of weeks.
Working with a Microsoft Gold Partner like Enavate makes this process even simpler because we manage all aspects of configuration, testing, training and support.
Here are a few more reasons why you may want to make the switch to EFT:
Save money
When you sign up for the EFT or ACH processing within a bank, there may be a monthly fee or per transaction fee. However, you'll still be alleviating internal costs, such as the cost for printing the paper checks, the postage and the time for mailing them out. Moving to EFT also saves money by reducing the need for an employee to spend man hours doing manual review. Essentially, it frees up employees to do more complex work rather than spending time going line-by-line through check payables.
Pay vendors faster
EFT offers a huge incentive to the vendor. Rather than waiting for days to receive a check in the mail, and then having to manually deposit the check in their account and then wait for the cash to clear, vendors can receive their payment as quickly as overnight.
Increase security
EFT for Payables includes a few upgraded security benefits. This includes Secure File Transfer Protocol, (SFTP). When EFT uses an SFTP system, it's encrypted so that it can't be hacked during the transmission. This offers extra protection for both the paying company and the vendor, eliminating steps in between where paper checks might be lost, stolen or otherwise compromised.
Automate repetitive tasks
Moving from paper checks to EFT makes use of automation, which improves consistency with vendor payment processing. Automating these tasks can help ensure that payments get uploaded on time by scanning the area where files get generated, either in real-time or every few minutes, to ensure all files are uploaded for timely payment. Email notifications are sent to the company's accounting department indicating that the file was transferred successfully. Real time notification allows for any issues that may arise during transmission to be quickly mitigated.
Reduce risk for human error
Whenever a person is responsible for manual data entry or payment processing, there's a risk of human error. With standard electronic processing of payments, employees process a batch of payments in GP, upload the payment file to the bank, and email vendors the remittance. Enavate takes this process a step further, so that once the payment file gets generated in GP, the subsequent upload to the bank happens automatically. Generally, the more that can be automated, the less risk for error.
Improve vendor relationships
When vendors can rely on fast, accurate payments, they are more likely to do business with a company in the future. Implementing automated vendor payments is one way to ease your own employees' workload while taking care of vendor needs at the same time.
Enavate's distinctive automation process
EFT setup can require some unique and custom guidance. The automation process is a custom Microsoft Windows service that runs continuously and monitors folders for either all files or specific files such as .CSV or .TXT files. The service can be configured to monitor one folder or multiple folders, and folders across the network with Universal Naming Convention (UNC) paths. The service can be configured to enable or disable certain aspects and configured to upload or download from one or more file transfer servers.
Email notification is a feature of Enavate's SFTP Windows service that sends an email notification to one or more personnel indicating whether the file was uploaded or downloaded successfully.
Some facilities have file naming conventions that do not conform to the program that created the file. The SFTP Windows service can rename the file it uploads or downloads. Enavate has several options to rename the file with a date and time stamp, remove the file extension, or simply use a static file name.
Ready to move to EFT?
Depending on the version of GP you are running (such as GP 2016 or 2018), there is a possibility that you may already own the EFT for Payables module. It could be that you are not taking advantage of the technology, or just don't know where to start with the configuration.
Whether you have the module or not, working with a Microsoft Gold Partner can make moving from paper checks to EFT for Payables in Microsoft Dynamics GP a far smoother process, providing guidance and support on configuration, automation, training and more.
For more information about how we can help you move away from paper checks, please contact us
About the Author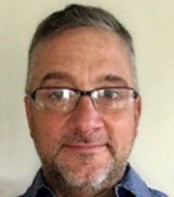 Timothy McHale is a Senior Solutions consultant/Architect for Enavate Managed Services, a DXC Services Partner. With 20+ years focusing on ERP solutions, implementations and process improvements, he is an expert in the area of designing, planning and implementing Financial, Distribution and Service software packages for small to medium range companies in the US and abroad in a range of verticals including retail, wholesale, manufacturing/distribution and Financial Services. His primary focus is Microsoft Dynamics GP software. He has been recognized as a team builder with a strong set of organizational, analytical and technical skills. He enjoys spending time with family and friends, golfing and other outdoor activities.