As many of ENAVATE's customers already know, one of our key development centers is in Kyiv. We recently welcomed our 100th team member to our Eastern European offices. The talent and support we've had in Ukraine have played a critical role in helping our customers reach their goals. In recognition of our commitment to recruiting, hiring and training some of the best developers in the world, we recently were awarded a seventh Gold competency from Microsoft. Much of the credit for our seven Gold competencies comes from our fantastic team in Kyiv.
Here at ENAVATE, we remain optimistic about the direction of Ukraine after the recent election of President Volodymyr Zelenskiy, who has expressed excitement and support for the growing IT industry in the country.
Running up to the election, there had been questions about Zelenskiy's experience and priorities in office. From a business perspective, we are optimistic with international governments, including the U.S. and E.U. governments, inviting him for visits. And while Zelenskiy hasn't had the time yet to enact new policies, he has expressed that his vision is that Ukraine should also be associated with the IT industry in addition to agriculture, people, nature and food.
In a visit to Station F in Paris, the world's largest startup campus, he commented that "there are figures that indicate that the IT industry, IT technologies and companies are developing very quickly in Ukraine." Kyiv Post quoted Zelenskiy saying that more than 4 percent of Ukraine's GDP is directly attributed to the IT industry: "We have about 150,000 IT specialists, startup initiators in Ukraine. I think that we will develop in this direction."
We are excited to be a part of the IT industry's growth in Ukraine, and are committed to continuing to build our capabilities for our clients with the best and brightest the local developer community has to offer.
About the Author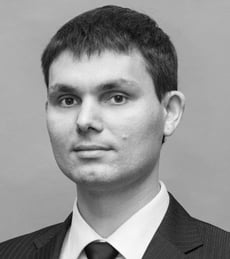 Iurii Glozhyk is the Senior Director of ISV Services for ENAVATE. He has more than 15 years of IT experience helping ISVs create, maintain and implement their products. As a manager, Iurii is responsible for meeting ISV and Partners business objectives. Iurii resides in Kyiv, Ukraine, and enjoys kitesurfing and go-kart racing.