Cardinal Workplace didn't grow to become the largest independent dealer of office products in Kentucky and southern Indiana by ignoring what customers want. And today's office products consumers want an easy-to-use, efficient ecommerce platform.
Cardinal was quick to offer that. But when the company wasn't able to find a software solution designed for the office products industry, it had to make do with a more general system. Tweaks and add-ons allowed it to function, but the system just wasn't efficient enough to meet Cardinal's needs, and it was never integrated with important channel partners like office product wholesalers. That severely limited Cardinal's ability to grow and to meet customer demands.
So when that system's developer announced it would no longer be supporting the product, it was at once a huge challenge and a great opportunity for Cardinal.
"On short notice we had to find another system," said President Kirk Ramsdale.
For Cardinal, migrating to Microsoft Dynamics and ENAVATE's Customer Connect eCommerce was the answer.
The ecommerce solution marries the power of Microsoft Dynamics and with customizations for office products sales and distribution. Cardinal's migration to Dynamics AX was smooth, and the result was an improvement Ramsdale describes as "like night and day" from the previous solution. With the previous software, "they tried to configure a complex system to take care of office products dealers and it never really worked," Ramsdale said. "With ENAVATE, it's been the total opposite."
The ENAVATE Customer Connect ecommerce solution offers customers a modern web experience. In addition to features that most buyers expect today, the solution helps dealers present an updated look and feel that is also easy for users to navigate.
The ENAVATE solution also provides integrated budget controls and favorites lists, reduced processing costs, integrated billing and consolidated reporting tools. "We have more than 50,000 products. Customers want to be able to access any one of those with a couple of clicks. Our website has to be searchable quickly and efficiently," Ramsdale said. If it isn't, the company's customers – which include the state government of Kentucky – will go to one that is.
"To compete in this day and age, you have to have a website people can order from easily and it has to be efficient," Ramsdale said.
Read the full case study: Serving Customers Seamlessly with Industry-Specific eCommerce
About the Author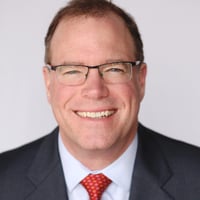 Sean Kracklauer is ENAVATE's Chief Revenue Officer. For over 25 years, Sean has been assisting Global 1000 businesses on strategy, revenue acceleration, organizational structure, technology implementation and process redesign. Sean has worked extensively in corporate strategy, sales management, global business services, ERP implementation management, and business process outsourcing. Sean and his family live in Louisville, Colorado, where he is an avid tennis player, double black diamond downhill skier, and a journeyman guitarist.