It's easy to feel overwhelmed in the COVID-19 pandemic, but stories of kindness and compassion are coming from every direction, showing that we are all in this together.
We have an amazing team at Enavate – full of talented and creative people who see a need and are ready to help. We wanted to share how these team members are making an impact in the midst of this crisis.
Sewing much-needed fabric masks
Sharon Flatley, a Senior Business Solutions Architect at Enavate, is sharing her skill for sewing to help frontline healthcare workers. "I linked myself to Relief Crafters of America to start making the masks," she said. "However, once I posted on my Facebook and Instagram pages that I was making them I've had local requests that keep me more than busy."
Sharon has sent more than 125 masks to friends, visiting nurses and other healthcare providers who saw her Facebook post and requested masks. Many healthcare providers are wearing the fabric masks over their N95 masks, which are in short supply.
"With the CDC recommending everyone wear a mask, requests have come in from DoorDash drivers, fast food workers and members of my family," Sharon says. "I continue to sew as fast as I can."
Fabric and ¼-inch flat elastic is in high demand, she says. As she waits for her fabric orders to arrive, Sharon has begun using fabric from cotton shirts that belonged to her 95-year-old mother-in-law, which she was planning on using to make quilts for her family. "I have plenty of fabric from those shirts so I believe she would be happy to know that some of her best-loved plaid shirts have been used to help people stay safe during this difficult time," Sharon says.
While people have offered to pay for the masks, Sharon just asks that they "pay it forward" in some way during these difficult times.
3D printing for good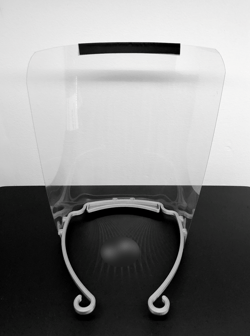 Another Enavate team members, wholesale distribution industry expert Taylor Clements, has begun creating 3D-printed "ear savers" and transparent face shields to donate to healthcare workers. The ear guards connect to masks and help take the pressure off healthcare workers' ears from wearing masks all day.
So far, they have delivered 100 shields and 60 "ear savers" to McLaren Oakland Hospital in Pontiac, Mich., and St. Anne's Hospital in Columbus, Ohio. They have also supplied a few dentists in Columbus with face shields.
Like Sharon, Taylor is running into materials shortages, including 8.5-inch x 11-inch transparency sheets for face shields, as well as PLA filament for the actual 3D printing. Taylor is also asking people who have access to 3D printers and want to help to print the frames to reach out to him, and he can supply the model files to anyone who's interested. He could also use more donations of filament for the actual printing, and suggests black or silver 1.75mm PLA, such as this example.
More than one way to contribute
Beyond these creative ways of making much-needed supplies, Enavate team members have banded together to create an internal donation-based emergency fund to help support team members who need help during these hard times.
And another team member, Senior Lead Development Manager Sherri VanDerveer created an optimistic poem about COVID-19.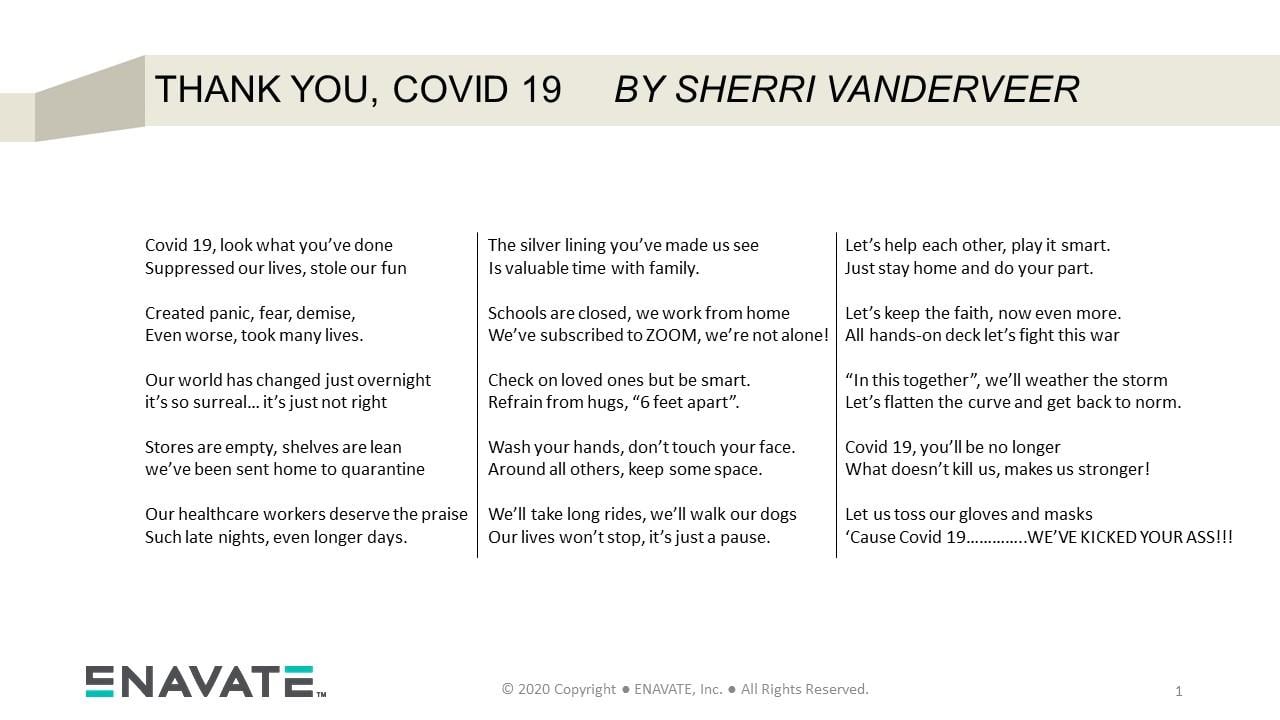 We are all in this together… Stay home and stay safe!
Learn more about Enavate's effort to support our team and the community during the COVID-19 pandemic by following us on Facebook, Twitter and LinkedIn, or contacting us here. We'd love to hear what you're doing to help out, as well. Share your stories in the comments or on social media.
About the Author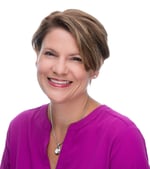 Holly has over 20 years of experience in global executive-level human resource development. Holly served as the Chief People Officer at Tribridge, a global technology company. As an executive at Tribridge, Holly led multiple Mergers & Acquisitions, as well as the acquisition and integration of Tribridge by DXC Technology in 2017. Prior to joining Tribridge, Holly served as VP of Human Resources for a broadcast facilities company, where she worked as part of the executive team to integrate employees and systems from several companies as a result of a multinational acquisition. She also held director-level HR positions for audiovisual integration and B2B media companies. Holly is designated Senior Professional in Human Resources (SHRM-SCP), certified in the Leadership Circle Profile and Leadership Culture Survey programs, and holds a Bachelor of Arts degree in Sociology from Georgia State University.