Are you looking for REAL TALK about migrating your ERP to the Cloud? Join Enavate and MSDynamicsWorld.com for the Dynamics Enavation Cloud Expo, an interactive, virtual event taking place November 10-11.
You can learn how to determine the right applications and solutions for your organization, and how to plan strategically for a successful Cloud ERP migration.
This event will be anything but typical. We understand there's a wealth of information around Microsoft Dynamics 365 and the Power Platform that you can discover on your own. This virtual expo will take it to the next level.
For starters, you'll get a deep understanding of what it means to move your data and solutions into the Cloud. You'll hear about the realities of migrating, including costs, risks and rewards. And you'll have a chance to connect with the experts and ask questions, so you can make the best decisions for your organization.
Enavation Expo: What to Expect
Over the course of this free two-day event, solution architects and strategists from Enavate will conduct more than 25 sessions focused on various aspects of the Cloud journey. These experts know this journey backwards and forwards, as they've helped their Dynamics clients migrate to the Cloud. They'll go beyond "how-to" and deliver REAL TALK about business impacts, industry trends, economic drivers, your potential ROI and more.
Expect a robust expo experience. The Enavation Expo will have an interactive virtual environment, allowing for real-time interactions and networking and time for some fun too!
Discover cutting-edge Microsoft solutions, access demonstrations and informational materials, and enjoy live communication with speakers and exhibitors, including private and group chats.
Check out the Enavation Expo session schedule to learn more about the topics covered and opportunities to connect with our experts.
Enavation Expo Day 1 – Tuesday, November 10
10 a.m.-11 a.m. EST
Executive Vision: Transitioning from Laggard to Leader to Achieve Business Transformation, with Special Guest Ryan Avery
Speakers: Ryan Avery, Best-Selling Author, Speaker and World Record Holder; Thomas Ajspur, CEO, Enavate; Jason Gumpert, Co-Founder and Editorial Director, MSDynamicsWorld (MSDW)
Learn the strategies and styles that will take you from being "A leader" to being "THE leader" who can achieve business transformation at your organization.
11 a.m.-12 p.m. EST
Real EDI Experiences to Learn From: Overcoming the Challenges of Moving to D365 in the Cloud and Implementation
Gain insights from experts' real-world experiences from Data Masons that will help you be successful with the next generation of Electronic Data Interchange (EDI) solutions.
A Dynamic Cloud-Based Platform for Payroll and Human Resources
Learn how the Greenshades unified payroll and HR platform is easy to use and can save you time.
12 p.m.-1 p.m. EST
The Story of Cloudilocks and the Three Bald Guys – Lunch 'n Learn
Speakers: David Bowles, Director of Operations, Enavate; Russ Riley, Sales Director, Enavate; Ryan Grant, Sales Leader – North America, Enavate
Discover why the Cloud is not one size fits all and enjoy real talk about Cloud options and best practices – as well as a few crazy stories.
1 p.m.-2 p.m. EST
Accounts Payable Automation in the Cloud for the Remote Workforce
Learn from Metafile how AP automation can bring about greater efficiency, productivity and visibility.
Discover Hidden Insights in Your Data – A Power BI & Data Analytics Overview
Speakers: Ray Fratto, Business Intelligence Practice Manager, Enavate; Taylor Clements, Wholesale Distribution Expert, Enavate
Hear from Enavate experts about how you and your team stay agile in today's uncertain market by tapping into to the powerful insights Power BI can offer.
How to Accelerate Your Order to Cash Cycle in Dynamics GP
Learn how you can use SalesPad to accelerate your Order to Cash process, from Selling and Ordering to Invoicing and Collecting.
2 p.m.-3 p.m. EST
How Disruption-Proof is Your ERP?
Speakers: Matt Bridges, Cloud Solution Architect, Enavate; Pablo Saez, Solution Architect, Enavate; Ryan Grant, Sales Leader – North America, Enavate
Sometimes, disasters happen. But they don't have to derail your business. Learn how to better equip your organization to manage disruption with a plan that accounts for a remote workforce.
Modernize Your Subscription Management Within a Single System
Get guidance from Binary Stream around automating subscription processes in Microsoft Dynamics 365 Business Central – and more.
3 p.m.-4 p.m. EST
Return to Workplace Technology: Enable Safe & Compliant HCM Strategies
Join ADP to learn the best strategies and practices for returning to work safely. This session includes a demo of Workforce Now® Return to Workplace Technology.
Getting Started with eCommerce Using Microsoft Dynamics
K-eCommerce will discuss strategies for using Microsoft Dynamics GP to build and expand your e-commerce business.
Managing Modern Retail Obligations with Maximum Efficiency
Hear from Vertex experts how to navigate and prepare for sales and use tax compliance considering new additions and new realities for retailers.
4 p.m.-5 p.m. EST
Virtual Desktop Infrastructure (VDI): The End-User Experience Amplified
Speakers: John Bellinger, Senior Partner Manager – CSP, Citrix; Neir Benyamin, Partner Sales Engineer, CSP, Citrix; Russ Riley, Sales Director, Enavate
Learn how virtual desktop infrastructure (VDI) can improve productivity, efficiency and business agility by allowing people to access applications anytime, anywhere from any device. This session includes a demo and stories of real-world experiences with the technology.
Simplify Shipping and Compliance Processes with BluJay Gateway for D365FO
Hear how BluJay Gateway for D365, a module for transportation and global trade solutions, can help you realize cost savings and improve customer satisfaction.
5 p.m.-6 p.m. EST
Dynamics Enavation Cloud Expo Virtual Party
Attend the virtual Enavation party for a fun, interactive gathering and a chance to win prizes!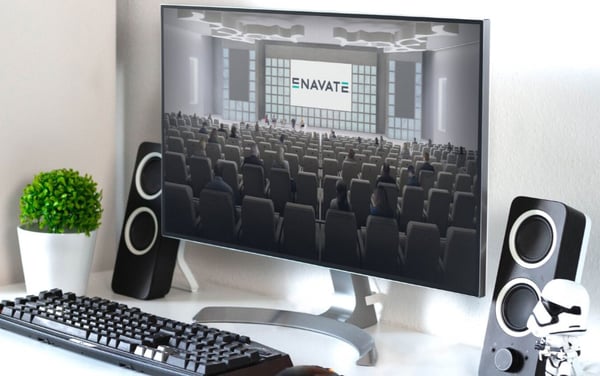 Enavation Expo Day 2 – Wednesday, November 11
10 a.m.-11 a.m. EST
REAL TALK on Your Dynamics ERP Cloud Migration Strategy
Speakers: Kevin Armstrong, Global Enterprise Strategy Leader, Enavate; Russ Riley, Sales Director, Enavate
Migrating to the Cloud is a matter of when, not if. Join our experts for a candid conversation about how moving to the Cloud has become a necessity for many organizations and learn about the Cloud options and strategies that can set you up for success in 2021.
11 a.m.-12 p.m. EST
In-House vs. Outsourcing Payroll: What's Best for You?
Greenshades will help you determine the best process for your organization by knowing the advantages and disadvantages that come with in-house and outsourced payroll options.
The EDI Showcase Showdown
Get all the answers to the hottest questions around EDI – plus Data Masons will provide a quick EDI demo.
12 p.m.-1 p.m. EST
Become the Wizard for Your Business: Managed ERP in the Cloud – Lunch 'n Learn
Speakers: Chris Lavelle, VP of Client Services, Enavate; Stefan Lowrie, Senior Director of Service Delivery, Enavate; Dan Edwards, National Sales Leader, Enavate
Discover the benefits of Managed ERP in the Cloud – and the potential pitfalls of managing your infrastructure on your own.
1 p.m.-2 p.m. EST
Boosting Your AP Department with Cloud-based ERP and Paperless Automation
Learn from Metafile how positioning part or all of your ERP and automation technology in the Cloud provides significant benefits, such as improved productivity and increased revenue.
Exciting Renewal and Incentive Offers for Dynamics GP, NAV, SL
Speakers: Pam Johnson, Senior Manager, Channel Partner Marketing, Microsoft; Dennis Chiu, Solution Architect, Enavate
Discover how you can take advantage of current Microsoft promotions that can help you meet your technology goals without busting your budget.
How Dynamics GP Users Can Eliminate Waste with Six Sigma Principles
SalesPad's "Six Sigma Sensei" will discuss how to apply Six Sigma principles with SalesPad and improve efficiency in operations.
2 p.m.-3 p.m. EST
Win-Win: Dynamics 365 Cloud Migration + Tax Benefits in 2020
Speakers: Shawn Kelly, Senior Manager, Dimension Funding; Matt Weider, BDM, Enavate
Learn if you qualify for 2020 tax benefits, such as IRS Section 179, that allow certain organizations to deduct the full purchase price of their SaaS purchase for 2020.
Incorporate World-Class, Robust and Easy-to-Use Supply Chain Management into Your D365FO Environment
Learn how to integrate BluJay's suite of supply chain solutions with D365 Finance and Operations to automate and optimize your processes.
3 p.m.-4 p.m. EST
Cloud Expert Panel Discussion – HOPE is NOT a Migration Strategy
Speakers: Rick McCutcheon, Microsoft 365 MVP, Host of PartnerTalks; Kevin Armstrong, Global Enterprise Strategy Leader, Enavate; Bob McAdam, Co-host of the Enterprise Software Podcast; Tony Stein, Azure Success Manager, Microsoft; Swamy Narayana, Group Program Manager, Microsoft; Gokul Ramesh, Principal Solutions Architect, Microsoft
Join our panel of Cloud experts to learn why HOPE is NOT a Cloud migration strategy – and how you can plan and conduct a successful Cloud migration at your own business.
The Easier Way to Manage Multiple Companies in Dynamics 365 Business Central
Learn from Binary Stream how to effectively execute Multi-Entity Management in Business Central for simplified environments, optimized processes and centralized reporting.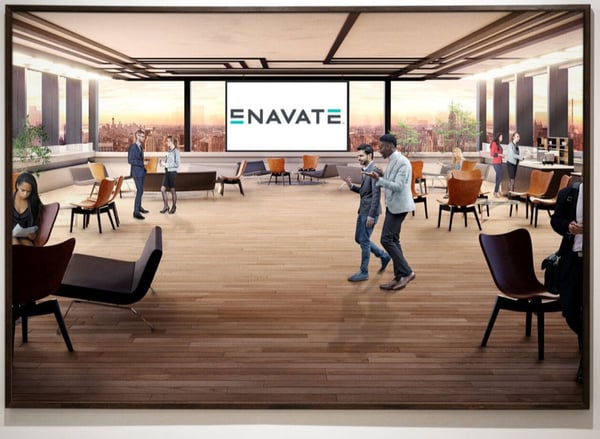 4 p.m.-5 p.m. EST
How to Succeed in e-Commerce During Today's Business Challenges
Hear from the experts at K-ecommerce how you can leverage Microsoft Dynamics to grow your online sales, reduce business costs and improve customer experience.
Technology, Integration, Data, Oh My! Empower Your Business with the Right Cloud HCM Tech
Learn from ADP how to leverage your data analytics for a greater competitive advantage by identifying trends and opportunities in your industry – and by implementing the right technology.
COVID-19: Sales Tax Implications & Observations
Learn from the experts at Vertex how your tax burden may change given shifts in business and the economy – and how you can prepare. This session will also address important topics like ballot initiatives and federal stimulus.
5 p.m.-6 p.m. EST
Decision-Making for 2021: Next Steps for Your Cloud Plan
Speakers: Kevin Armstrong, Global Enterprise Strategy Leader, Enavate; Jason Gumpert, Co-Founder and Editorial Director, MSDynamicsWorld (MSDW)
Hear some REAL TALK about building a Cloud plan that will help you achieve business transformation – apply what you learn to redefine your vision for 2021!