We are rolling out a new vlog series all about Business Intelligence and Analytics! In this series, we're going to convey some of the unprecedented capabilities available to our clients with the new Microsoft Power BI solution available on Azure. Regardless of the platform or business applications you are currently running on, Microsoft's offerings in business intelligence and analytics can help you gain insights into your business and identify patterns and trends that would otherwise go unseen.
The new Azure applications are very easy to use, intuitive, and have a rapid time-to-value factor. Previous data warehousing types of applications often took months, if not years, to implement and involved extensive data extraction and manipulation efforts. Microsoft has radically changed this approach with their cloud offerings based on the Azure platform. In this series, we're going to focus on the new analytics and reporting engine called Power BI, and show just how dynamic and flexible this tool can be in helping you to understand and analyze the data in your business applications.
What is Power BI? Power BI is a 100% cloud based analytics and reporting engine published by Microsoft. Desktop and mobile deployment options are available. Power BI is the platform on which Microsoft has standardized its business intelligence and analytic capabilities. Regardless of the source of your business data, Power BI makes it easy to bring your data in for a quick analysis. Chances are that connectors already exist to your business applications, making the data migration even easier.
Once you've used Power BI to create insightful dashboards, analytics, and metrics, it's simple and straightforward to distribute this information. Because it's an Azure based application, the BI content can be distributed directly to mobile devices, tablets, portals, and desktops. Youcan even embed BI content directly into business applications such as Dynamics 365, giving you real-time insight into your business right at your fingertips.
We have created a 5-part video series all about Power BI. In the first video, we will focus on an introduction to Power BI, each proceeding video building upon the examples of the previous.
Video #1: Introduction to Power BI
Video #2: Linking Power BI to Dynamics 365
Video #3: Creating an "on the fly" Power BI analysis
Video #4: Using Power BI to create alerts based on your business data
Video #5: Power BI + "The Internet of Things", …Can my business application data really tweet?
In the last video, we'll introduce you to another powerful Microsoft cloud application that can help to extend the reach of your BI alerts and insights, Microsoft Flow. Microsoft Flow is a simple but extremely powerful business logic tool that helps you to connect to what's being called "The Internet of Things". Yes, your business applications can tweet if they want to!
We hope that you enjoy this video series on the capabilities of Power BI! If you want to explore using PowerBI to unlock your business' data, contact ENAVATE today! Our team of experts are ready to help you experience the power of Microsoft's Power BI!
Be on the lookout for next week's Power BI video – Linking Power BI to Dynamics 365!
About the Author - Joe Woodmancy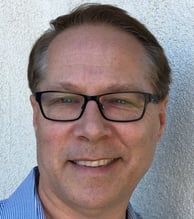 Joe Woodmancy is a Sr. Solution Consultant with ENAVATE, specializing in Dynamics 365 and related Azure technologies such as Power BI and Microsoft Flow. Joe has over 25 years of experience with ERP business applications, particularly in the area of wholesale distribution and logistics, and has held many roles in the business applications world, including product management, delivery, and pre-sales.