It is likely you have experienced this - expensive and high maintenance servers that is! The number of companies moving to cloud-based ERP solutions is on the rise. According to Gartner Research, 47% of companies surveyed plan to move their ERP solutions to a cloud based model by the year 2019. ERP solutions being hosted on expensive, high maintenance servers is a thing of the past. Companies are finding that the ability to run their entire business on the cloud provides numerous benefits: increase in operational efficiencies, less time to implement, lower up-front cost, reduced internal IT expenses, more timely updates on critical information, just to name a few.
Cloud-Based ERP Leaders
So, who are the leaders in cloud-based ERP solutions? According to Nucleus' 2016 ERP Value Matrix, the new Microsoft Dynamics 365 solution is a leader in cloud-based ERP solutions. Microsoft Dynamics 365 is an app-based cloud solution offering the customer the ability to pick and choose the functionality necessary to run their business. The complete ERP tools in Microsoft Dynamics 365 for Operations provide global scalability and digital intelligence to help customers grow at their own pace – in the cloud!
Microsoft Dynamics 365 for Operations
Cloud-based ERP solution Microsoft Dynamics 365 for Operations provides you connected intelligence and insight across all areas of your organization: distribution, customer service, sales, and marketing enabling you to innovate products and streamline operations to meet the ever increasing expectations of the market today. Now, Microsoft technologies including app-based solutions can run every aspect of your business transforming your effectiveness and speed at which you go-to-market.
Meet the Author – Kelly Charlton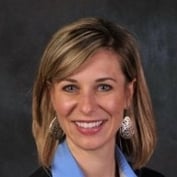 Kelly is the Senior Manager of Marketing at ENAVATE, a company providing ERP Software and Services for the distribution industry and Microsoft partners worldwide. She has provided business operations consulting and marketing expertise in the wholesale distribution industry for ten years. Follow ENAVATE on Twitter (@ENAVATE) or LinkedIn.