Matt Petersen, Senior Director of Industry Solutions for ENAVATE and wholesale distribution industry expert, shares a preview of his upcoming presentation at D365UG/AXUG Summit Oct. 15-18 in Phoenix, AZ. During his session at 2:30 p.m. on Thursday, Oct. 18, he'll talk about why Amazon is a threat to distributors and which Microsoft technologies can be leveraged to compete effectively and mitigate the threats.
If you're a wholesaler-distributor in 2018, one thing is certain: Technology is disrupting your business. That can be scary – change always is. But the reality is, current and future innovations in technology can, and should, work for you.
When you know, understand and capitalize on your strengths, and combine those strengths with the advantages that disruptive technologies can deliver, you have armed yourself to compete, succeed and even lead in your market.
Unlike most companies, Amazon is prepared to invest with little or no profit for years while they pursue growth in new industries. Amazon has been able to create a new standard of purchasing ease for customers – and in the process they have succeeded in disrupting entire industries primarily through using technology to change the customer experience. They've pioneered features like the "one-click" buy and the Amazon Dash button (a well-known Internet of Things case study). As a result, 43 percent of all online sales went through Amazon in 2017 alone.
And now they're applying that success to the distribution market. In fact, they announced this year that Amazon Business – its B2B arm – will likely hit $10 billion in sales for 2018.
But for all of Amazon's capabilities, there are things an on-the-ground distributor can do well that Amazon can't. Start with a thorough evaluation of your strengths and the value you provide from the perspective of your customers.
You may find that your customers value their strong relationship with your business. That relationship is fed by a sales and service model that any competitor, including Amazon, would have trouble replicating. I know one distributor who gives customers door codes to his facility, so they can let themselves in to retrieve an ordered part before or after hours. That kind of immediacy is a strength.
In addition to strong customer relationships, your built-in advantages may include:
The ability to provide complex or customized products
Exclusive brands
Value-added services
Need-it-today convenience
While your strengths are real, you can't afford to overlook areas where your business may be vulnerable to Amazon. One of those areas may well be price – Amazon can afford to make deeper price cuts than most distributors can. And they offer ordering convenience and speedy delivery that many distributors really can't compete with. Knowing where your strengths lie means you can focus on those, rather than trying to fight a losing battle in areas where you're vulnerable.
Marry these strengths with the capabilities that the latest technology like Artificial Intelligence (AI) can bring you. Consider these applications:
Chatbots. What if a supervisor could simply ask a digital voice assistant on their phone for the status on their latest shipment? That would surely inspire loyalty from customers, who could quickly determine whether they needed to hold or send home workers, saving them time and money. This technology is driven by chatbots, using AI to interact with a user verbally or by text.
Cross-sell/upsell. Right now, most companies have to set up cross-sell and upsell recommendations manually; it requires data mining, identifying affinities between products and more. But with machine learning, distributors' systems can learn as they go, collecting data on which products are most likely to be purchased with which products, for example, and where upsell or cross-selling opportunities exist based on what other customers have purchased. This technology can have a big impact on total basket size and margin.
Image recognition. What if you could upload a picture of a product on the plant floor to an app, that would immediately recognize the brand, type and model number and add it to your order? This extension of machine learning could have multiple applications for distributors.
How long will it be before Amazon has a billion SKUs at a better price point with faster delivery and good-enough, cheaper service offerings? What's the potential impact to your business when that happens? The time for iterative change is over. Distributors can no longer wait to invest. If you want to get ahead of Amazon, don't wait until this disruptive technology is "proven." Integrate it into your technology roadmap now.
Reach out to me at matt.petersen@enavate.com if you'd like to connect at the AXUG Summit or to learn more about Enavate.
About the Author - Matt Petersen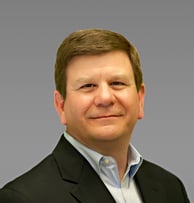 Matt Petersen is a Senior Director of Industry Solutions for ENAVATE and has spent his entire career in the enterprise software industry. Matt was a founding member of the SAP for Wholesale Distribution Industry Business unit and in 2014, he joined Microsoft to lead the U.S. Dynamics Retail and Wholesale Distribution Industry practice.
Matt has a Bachelor's Degree in Economics from the University of Illinois in Urbana - Champaign and a Certificate in Distribution Management from Texas A&M as well as a Certification from INSEAD in Business Strategy and Financial Acumen.