While moving to cloud-based HR and payroll offers significant advantages, bringing too much baggage will make the process more complex and less efficient.
Follow these steps to ensure you get the most from the cloud with your HR and payroll functions.
1. Make the case for HR and payroll in the cloud.
While increasing familiarity with the cloud has helped raise the profile of remote solutions in the boardroom, executives are often reluctant to move critical processes like payroll off-site. So, come prepared with key cloud use cases like these:
Data is centralized, which prepares organizations to handle changing payroll requirements around compliance and reporting.
Self-service solutions enable employees to access and adjust payroll data securely and on-demand.
Cloud services include automatic updates and clear-cut payment structures for better HR budget management.
It's also worth advocating for the use of trusted partners like Enavate and our partner ADP as the costs and challenges of maintaining ERP infrastructure on-site rapidly increase.
2. Clean house.
Anyone who's ever moved into a new place knows that some of the clutter you've accumulated over the years is destined for the trash. Wondering what needs to stay on-premises? While there's no hard-and-fast rule, organizations are often best served by leaving behind:
Mission-critical data — The biggest advantage of next-generation cloud HR and payroll isn't that they let you offload resource loads and computing requirements; it's that they grant the ability to link disparate data sources and solutions across public, private and in-house stacks. Because of this, businesses should leave mission-critical payroll data behind rather than moving it to the cloud. While some processes will require data shifting, it's essential to make sure that you always have at least one local backup.
Local security solutions — Local security solutions aren't designed to handle the volume and variety of data generated and processed in the cloud. While existing firewall and intrusion detection tools should remain in place to defend in-house assets, attempting to apply these solutions to cloud-based HR and payroll deployments is an exercise in frustration — and it can open critical gaps for malicious compromise.
Legacy solutions — Some proprietary applications simply aren't designed to handle cloud-based HR and payroll connectivity, and in other cases, they may be pen-and-paper processes. To put it simply, these processes aren't worth saving. Proprietary apps won't play well in the cloud, and manual processes have no place in an automated, data-driven world.
3. Identify what you want to move to the cloud.
Typically, this includes any payroll processes that are essential for day-to-day business functions. It also includes those processes that are so complex that re-architecting them would take more time (and money) than it's worth. Common examples include:
Compliance toolkits — For wage payments, employment tax, tax credits, W-2 management and health and unemployment claims, robust compliance is a necessity to ensuring staff privacy and avoiding costly fines. You need smart compliance solutions such as ADP that work equally well on-premises and in the cloud.
Reporting frameworks — Efficient and accurate reporting is critical for payroll success. Reports form the basis of government and agency audits and streamlined reporting procedures that are both accessible in the cloud and actionable in-house, are essential for HR teams to meet key compliance requirements.
It's no longer a question of if organizations will move HR and payroll to the cloud — it's when. Streamlining this move starts with insight, and knowledgeable HR leaders can help C-suites determine what needs to hit the bin, what can stay on-site, and what should come along for the ride.
Need advice on moving HR and Payroll to the Cloud?
Enavate is happy to be a strategic partner of ADP. This partnership means great things for you. Together we can help you transform your HR and payroll processes with cloud technology. To learn more about how you can benefit from this alliance click here. Our experienced team is here to support you in getting started. Request a free consultation now.
This post was compiled using the following ADP articles:
About the Author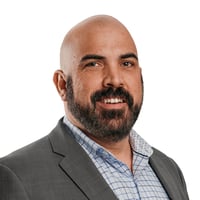 Ryan Grant- Sales Leader North America Managed Services Team, Enavate
Ryan Grant is a Sales Leader at Enavate for their North America Managed Services Team. He has over 20 years' combined experience in B2B technology and oversees a national team dedicated to building and delivering customer-driven business process management solutions with Microsoft Dynamics 365 Business Central, NAV, GP, and SL. He attributes his success in bringing companies efficient ERP projects by understanding customer goals, something he learned first-hand in days managing implementations and support.