No business knew coming into 2020 that their plans for the year would go out the window just a couple months later. It's an understatement to say these are unprecedented times.
Businesses must take what they know now and adjust their plans for the remainder of the year, so they are better positioned when the market returns. Inevitably, things will shift. But with the right tools and processes, you can take back control with thoughtful business forecasting.
Why Business Forecasting Matters
Some businesses are flailing right now, forced to make quick decisions to keep their companies solvent in these rapidly changing times. Effective business forecasting can help you step back, evaluate where your business stands and make educated decisions about what's coming next. Here's why that matters:
Your budget was outdated two months into 2020. You can't rely on your previous plans. You need to restart that planning process if you want to take back control of your business.
Resources may be over- or under-allocated to the wrong initiatives. If you've allocated resources to a market that suddenly has no or diminished demand for your services, you need to be able to shift to areas where your team and money can perform better for your bottom line.
You don't want to be caught unprepared for another shift in the market. Scenario planning can help you adjust your strategy on the go if things shift (and they likely will).
Reduce the risk of insolvency. In a recent blog post, our partner Solver wrote that cash flow forecasts can benefit a company by reducing the risk of insolvency, moving faster on investment opportunities and achieving better bank-backed financing options. After all, they say, "Most executives know they would sleep better at night if they had a mechanism that could fairly accurately tell them if the liquidity of their business is healthy or not in the months ahead."
Tips for Business Forecasting
Accurate business forecasts and powerful reports can provide the insight businesses need now to make better and faster decisions when dealing with market turmoil. Here are some tips to improve the quality of your forecasts:
Be prepared. Scenario planning is a common approach to planning for the unknown. While you may not know how next year will pan out, remember that, these days, we don't know what will happen next month. Leverage technology that will help you quickly and accurately evaluate what you'll need to do if sales fall precipitously, if they stay the course or even if they increase. What shifts will you need to make in resource allocation, staffing and elsewhere to remain strong in each of these scenarios? Dynamic what-if scenarios and simulations can help you execute more effective budgeting and forecasting.
Improve visibility. Your team needs real-time visibility into payments, cash, expected sales receipts, financial variances and more to make the right decisions. You also need open lines of communication between those working in customer-facing roles and those in management, as well as across departments, to ensure consistency in action in response to current and forecasted conditions. Get the right information to the right people by consolidating critical financial and operational data into meaningful automated reports.
Recognize potential bias. A sales rep's report from the field is inevitably biased – not because they are trying to skew the data, but because it's typically based on qualitative data: conversations with the customer, a desire to sell more of a product line (even if the customer has no immediate need) and so on. You need objective and consistent data to create a reliable forecast.
Track the right data. It's also critical to effectively use KPIs to track financial performance, ensure alignment to strategy, and adjust forecasts and plans as needed.
Times of uncertainty require business leaders to be nimble and open-minded to changes that happen daily or even hourly. Taking the steps to produce an accurate forecast can put you in a better position for when the market does start to improve. First, understand why forecasting matters. Then, get to planning for the new reality.
Microsoft Dynamics ERP users can learn more about how to adjust and improve your forecasting in these uncertain times Join Enavate and Solver when they watch the on-demand webinar "Fix it with Forecasting - How to Gain Financial Control During Uncertain Times."
About the Author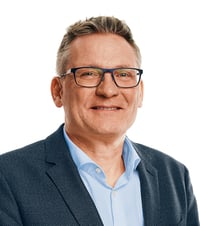 Jasper took over the role of Chief Financial Officer at ENAVATE after initially joining ENAVATE to lead the consulting and delivery operations practices. Jasper is a seasoned executive who has served in leadership positions at both Microsoft and Avanade. He spent a decade in public accounting before joining Damgaard (Navision) in 1998. When Microsoft acquired Navision in 2002, Jasper played an instrumental role in building up the Dynamics AX capability for Microsoft Consulting Services and served as an Engagement Manager for the largest and most complex projects for Microsoft's Enterprise customers. In his last role before joining ENAVATE, Jasper served as Practice Director for Avanade's ERP Service Line on the West Coast. Originally from Denmark, Jasper has been living in the US since 2000. He's based in Redmond, WA where he enjoys all the outdoor activities the seasons of the Pacific-Northwest brings.