You've decided to look into a new ERP — that is, new Enterprise Resource Planning software.
ERP solutions can transform your business by streamlining processes such as inventory and order management, HR, customer relationship management (CRM) and more. It all works through a shared database, usually in the cloud, where different teams can access the same information to make better business decisions.
But before all that happens, you need to successfully implement the ERP solution. Here are tips for defining and measuring the success of your ERP implementation.
Know how the new ERP system will help achieve business objectives.
Before you begin the ERP implementation, take some time to understand how the updated system will help you achieve your business objectives. Look at your current capabilities, as well as the current customer experience, and then consider how an updated system can improve inefficiencies or improve processes. Business process mapping involves mapping tasks in a diagram, showing the links between each step. It's a way to understand how things are done. Here's an example of a simple process map for an order originating online:

Create a document that maps those business objectives to ERP features or configurations.
Learn more about how to select a new ERP system.
Clearly define the desired outcomes.
Know what to expect from your ERP implementation. This starts with gathering the required information and coming up with a plan for development and configuration. Spend some time thinking about what success will look like, from planning stages to deployment and post-production. It helps to work with an ERP implementation partner who can help monitor progress and success. At the same time, it helps to talk with your partner about any potential bumps in the road, and how you'll handle them.
Measure your ERP implementation success using KPIs.
As you go forward and implement your ERP system, it helps to create a series of key performance indicators (KPIs) against which you can measure your progress and outcomes. This also gives you and your implementation partner a sense of accountability.
Some examples of goals and associated KPIs for the new ERP implementation might include:
Improving the customer experience. Your customer's experience is critical to your ongoing success. Some KPIs to track include customer ratings, repeat customers and call response time. If customers are expressing their appreciation and coming back for more, then you know you're on the right track.
Increasing sales performance. Just about every business would like to see an improvement in sales. Set KPIs to measure the average sale and, perhaps more importantly, the average profit margin per sale. You can also track the percent of lost sales to see if these are declining.
Increasing productivity. Another great thing about streamlining your business processes with updated ERP software is that employees likely won't have to deal with so many workarounds and can actually do their jobs better. Consider KPIs to measure things like transactions processed and orders completed per employee. Track the number of sales calls made per employee. Above all, be sure to offer adequate training and support as your employees get acquainted with the new system, and be sure they understand their own goals and updated evaluation criteria.
Increasing profits. Ideally, a new ERP will result in ROI for the business — tangible profits. Take note of the bottom line before you begin the implementation and then assess how things change afterward. Use KPIs such as average margin per product or service, or costs per employee per location.
There may also be specific, industry-related goals or KPIs that you will want to track. Work with your ERP implementation partner to establish the metrics that are most important for your business.
If you are considering a new ERP project, get our free eBook on what to look for in an ERP partner, including a bonus section with 9 warning signs that should send you running in the other direction.
Download now: 9 Questions Nobody Asks Their ERP Partner … But Should
After you review, if you have any questions, our team of ERP experts are ready to help. Get a free consultation.
About the Author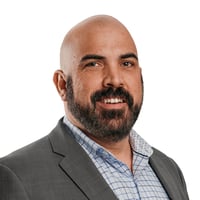 Ryan Grant- Sales Leader North America Managed Services Team, Enavate
Ryan Grant is a Sales Leader at Enavate for their North America Managed Services Team. He has over 20 years' combined experience in B2B technology and oversees a national team dedicated to building and delivering customer-driven business process management solutions with Microsoft Dynamics 365 Business Central, NAV, GP, and SL. He attributes his success in bringing companies efficient ERP projects by understanding customer goals, something he learned first-hand in days managing implementations and support.