Transforming organizations by optimizing technology and businesses through visionary thinking and disruptive innovation!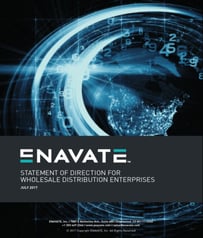 At ENAVATE, we approach your goals and our work with a perspective that stretches beyond today's challenges. Our forward-focused strategic thinking prepares you for lasting success.
Over the past 15 years, ENAVATE has worked alongside Microsoft to envision how wholesale distributors should operate. Now, as industry innovators, we are peeking around the corner to tackle the next big challenge faced by wholesale distributors: Digital Transformation. We are underpinning this strategy with the following three strategic pillars.
Focused efforts on building best-in-class solutions for the wholesale distribution industry
Strategic approach of re-imagining our library of distribution assets in the context of Microsoft Azure
Committed to a strategy of continuous innovation
Download our digital brochure to learn about unprecedented innovation happening at ENAVATE.