Finding the right ERP solution for your business is important enough, but the ERP partner you choose is just as consequential.
Your ERP partner should be fully engaged, tailoring your system to your specific goals, training and supporting your team members, and helping you transform your business through greater productivity and profitability.
However, hindsight is 20/20, and it's hard to know ahead of time if your partner is going to provide the support and expertise you need. Fortunately, there are several signs you're working with the wrong ERP partner, and hopefully you can catch them before you commit.
Be wary if a potential partner says something like:
1. "Don't worry about the details; we've got it covered."
You may not have the knowledge or technical skills necessary to implement an ERP system by yourself, but that doesn't mean you shouldn't be involved. Understanding how and why you're choosing certain features and customizations is crucial if you want to get the most out of your investment. Your ERP partner should involve you and your employees in the process, and they should explain the reasoning behind each decision, such as improved productivity or efficiency.
2. "Your industry type won't drive your ERP decisions."
If your ERP partner doesn't factor in industry-specific processes as they work with you on a system design, you risk selling yourself short. Few businesses can achieve a high level of success with an out-of-the-box ERP software that isn't tailored to their industry. Look for a partner with at least a basic knowledge of key industry functions relevant to your business. Expect them to discuss these functions with you and make every effort to tailor your system to your needs. They may suggest Independent Software Vendors (ISVs) or customizations they can put in place.
3. "We can't gauge how effective the implementation is."
It is more than possible to measure the success of your ERP implementation, how well your ERP performs, and how it improves your business. In fact, it's necessary. You must have set goals you want to accomplish and determine the best Key Performance Indicators (KPIs) to track. Your ERP partner should help you choose and follow these KPIs to understand the impact of the system and whether you're achieving your goals. With metrics, you can gauge:
Sales performance
Customer experience
Productivity
Profitability
4. "We aren't responsible for change management or training."
You shouldn't be on your own when it comes to gaining the acceptance of your employees and helping them use the new ERP solution. The right ERP partner will have experience with change management and help you navigate the process so you're more successful. That may mean adjusting the implementation timeline so that employees can adopt the full suite of features gradually.
Your partner should also provide training to your employees that:
Starts before implementation and continues after
Factors for different learning and working preferences
Describes the purpose of the tools and how they are helpful
Considers employees' current workflow, responsibilities and time constraints
5. "We don't have defined processes."
An experienced ERP partner will have performed enough implementations to have clear standards in place. They should be able to outline – and document – the following processes:
Requirements gathering
Design and development
Implementation phases (yours specifically)
Change management
Training
Support (short-term and long-term)
Managing timeline and budget issues
Managing common industry challenges
Measuring implementation success
Don't just take them at their word, however. The best way to ensure your ERP partner is true to their documented processes is to check their references. If they can't give you references, that's a sign they are the wrong partner for you.
6. "It won't matter who's on your project delivery team."
If your ERP partner isn't strategic about assigning your delivery team, chances are you're not going to get the support you need. Individuals on your team should have industry knowledge, understand your business, and have experience working with solutions like yours. You should have clear and direct contact with this team, and they should be highly responsive to your needs and concerns. They should also help you with change management, training, and ongoing support post-implementation.
If your partner doesn't focus on these details, take a closer look at their culture. You want a partner who has excellent employee relations, provides ongoing training, and puts teams together mindfully. Otherwise, your delivery team won't be able to deliver the best service and commitment to your project.
Have you heard similar excuses from your ERP partner? If you ignore these warning signs, you won't get as much value out of your ERP solution as you would working with a partner that listens to your objectives and structures a solution to meet your needs, overcome common industry challenges, and drive productivity and profitability.
If you are considering a new ERP project, get our free eBook on what to look for in an ERP partner, including a bonus section with 9 warning signs that should send you running in the other direction.
Download now: 9 Questions Nobody Asks Their ERP Partner … But Should
After you review, if you have any questions, our team of ERP experts are ready to help. Contact us today for a free consultation.
About the Author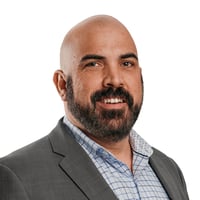 Ryan Grant- Sales Leader North America Managed Services Team, Enavate
Ryan Grant is a Sales Leader at Enavate for their North America Managed Services Team. He has over 20 years' combined experience in B2B technology and oversees a national team dedicated to building and delivering customer-driven business process management solutions with Microsoft Dynamics 365 Business Central, NAV, GP, and SL. He attributes his success in bringing companies efficient ERP projects by understanding customer goals, something he learned first-hand in days managing implementations and support.