Before you take the first step to implement your new ERP solution, make sure you're building on the right foundation.
Most ERP failures happen for preventable reasons – many of which are tied to lack of buy-in within an organization or having the wrong implementation vendor on board.
Follow these four critical steps to ensure you start your implementation off on the right foot.
1. Find the right ERP implementation partner.
It's not an exaggeration to say the Value Added Partner (VAR) you choose for your ERP implementation can be the difference between success and failure.
The right partner will manage the project to deliver a system that fuels your business growth. They won't just focus on the software, but on a business transformation that aligns strategy with technology and empowers you to drive profitability, grow sales and improve productivity. The right partner also understands your industry, cutting back on the time and money needed to explain your business to those implementing your software. Find a partner that will challenge the status quo by recommending best practices they've learned and refined from other clients in your industry.
On the other hand, the wrong partner will stumble through the implementation, disrupting your business and costing you money.
But how can you know before you've started whether a vendor is the right – or the wrong – partner for you? Ask tough questions that go beyond cost, experience and methodology. Ask questions that will uncover the partners' business practices and their level of commitment to your success.
Take time to do this right. Uncover the strengths and weaknesses of potential partners before you dive in headfirst.
Read now: 9 Questions Nobody Asks Their ERP Partner … But Should
2. Involve executive leadership.
When executives aren't committed to an ERP implementation, they may look at ERP as an IT project. As a result, they may view the system as just an expense. Make sure your executive team is bought in and actively engaged. Implementing ERP is simply too big and too important an undertaking to carry out if only the IT leaders are invested in the project.
Your executive team should understand and share how the ERP project will support the long-term goals of your business. In addition to this executive buy-in, it's vital to have the support of key experts and leaders throughout the company.
3. Engage and prepare the entire organization.
Change is always tricky, especially if there are people in your organization who are worried about new technology replacing them. People are inherently averse to change, and some will even try to derail the project.
An experienced partner will suggest a proactive communication plan in concert with management to help alleviate fears ahead of the implementation and highlight positive outcomes during and after. Here are four ways to mitigate common challenges associated with change:
Talk about the change before it happens so your entire team feels included.
Ask for ideas on improving current processes from those on the front lines doing the work.
Dedicate time, planning and support to your transition. There is always a learning curve associated with new technology.
Incorporate guidance before, during and after an ERP implementation as part of a thorough training plan. Include different learning styles to ensure no worker is left behind.
To get the most value from your ERP implementation, everyone needs to get involved. They need to understand what's going to happen, why it's happening and how they can contribute. Each department should understand how the system will improve their business processes and productivity.
It sounds basic, and yet many businesses overlook the importance of assuring those who will use the ERP system can communicate and collaborate with the team charged with configuring and implementing the system.
4. Manage expectations and new priorities to avoid burnout.
One of the most common challenges during an ERP implementation comes when employees are asked to do their project-related work in addition to their full-time job. Unfortunately, this leaves them stressed out, overworked and anxious – not a recipe that enables a team that to give their best.
Develop a clear strategy to ensure employees have the appropriate bandwidth to work on the project— from business process review through training. Minimize disruption with a phased approach that allows employees to become familiar with the new system over time.
If you are considering a new ERP project, get our free eBook on what to look for in an ERP partner, including a bonus section with 9 warning signs that should send you running in the other direction.
Download now: 9 Questions Nobody Asks Their ERP Partner … But Should
After you review, if you have any questions, our team of ERP experts would be happy to help. Simply contact us.
About the Author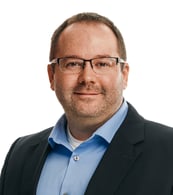 Eric brings 15 years of experience in leadership and operations. Most recently, Eric was COO of Cascade Healthcare Services where he was responsible for day-to-day operations driving Cascade to record revenue and EBITDA. During his time as Vice President of Operations at Intrado, a global leader in technology-enabled services, Eric focused on developing, supporting and driving goals while leading a customer-focused operations team more than 100 strong. Eric holds a B.S. in Business Administration from Colorado Christian University and an MBA from Colorado State University.