Enavate recently sponsored a webinar with Modern Distribution Management, "How to Support Your Customers and Sales Team with COVID-19 Restrictions in Place." The webcast was moderated by MDM CEO Tom Gale, joined by MDM Vice President of Sales, Analytics and Business John Gunderson and Enavate's Director of Implementation Services Taylor Clements. Access the webinar on-demand here.

We face an uncertain timeline for when business will return to a degree of normalcy with COVID-19. In light of the social distancing and other restrictions mandated by the pandemic, your team's ability to engage with customers is more challenged — but also more critical — than ever.

Here are tips for updating your sales approach with COVID-19 restrictions in mind. These insights were outlined by MDM's John Gunderson during the webinar.
COVID-19 and sales models
Distributors are doing their best to stay in touch and connected with customers, and manage margins in this trying time where we can't actually have face-to-face calls.

For many, the past 20 years in distribution have included a fairly similar approach: Set a business plan, convey that plan, and reach out to prospective and repeat customers. Many of these relationships have always counted on face-to-face interactions. Now that this is no longer possible, Gunderson asked, how are salespeople still selling and servicing customers effectively?

Even before COVID-19, customers were moving toward a much greater self-service mindset. Today, face-to-face interruption, as well as trade shows and lunch-and-learns, are probably disrupted forever. Because of COVID-19, everything is moving to digital.
Ideas for distribution sales teams
If you're managing a sales team, the No. 1 thing you need to do in this new normal is set new goals. Encourage salespeople to improvise and reach out to customers in a respectful way. Here are some examples, according to Gunderson:
Contact your customers. Be mindful of everything that's going on. Still, there are ways to reach out. A quick: "Hey, I hope you're doing okay. Thinking about you," can make an impact. Mail items to their office. If you show you care now, and that you're there for them. When opportunities come up, they will call you.
Focus on team and account development. Many distributors are doing once-a-day Zoom/Teams calls with their sales teams. They're also taking advantage of this time to do account research, especially on those accounts they don't know well. This prepares them to prospect in new customer segments when the market returns.
Reconsider compensation. Work with your sales team to limit panic discounting, especially if you've got a sales team that's paid on commission. If you're paying them on commission – percentage of the gross margin dollars – it may drive bad behavior. Find a way to help them manage through that.
New opportunities in the time of COVID-19
During and after this shutdown, distributors have opportunities for growth — whether that's selling new products, going after new markets or developing new services related to what customers buy and how they buy it.

Here are some examples, according to Gunderson:

Safety products. Obviously, Personal Protective Equipment (PPE) is a large growth opportunity today if you can get the product. But it will also be an opportunity going forward.

Janitorial/sanitation products. Growth in cleaning products and janitorial equipment is going to be significant and long-term. Gunderson said one distributor told them about how their customers are improving cleaning procedures. Expect that to happen more widely, even after the crisis passes.

Construction and design. Expect to see innovation and changes in design based on this experience, including more touchless faucets and updated door-entry designs.

Networking and communications. Schools, from elementary to college, will need to have much better networking and camera systems to be able to do remote schooling. That adds up to more need for bandwidth and more redundant systems.

Cloud migration services. If they weren't there already, distributors have gained an instant understanding of the value proposition of cloud computing since the start of the COVID-19 crisis. Those not yet operating in the cloud have scrambled in this new more remote environment to adapt.
Learn more about how distributors are supporting their customers and sales teams. Watch the full webinar now.
About the Author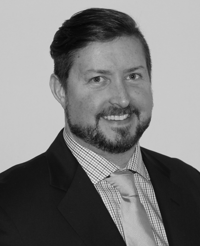 Taylor has been working with Dynamics AX since 2005. His focus areas are improving business processes through the implementation of Microsoft Dynamics. He is skilled in guiding companies through the process of implementation through to a successful go-live.
Taylor has been involved in many AX & Dynamics 365 implementation projects as a Wholesale Distribution & Supply Chain Consultant, Team Lead and Solution Architect.