Contrary to what their name implies, chatbots aren't merely talkative robots.
They do excel at communication, however. Chatbot technology is one of the more exciting advancements to come along in years, and one with tremendous potential to allow wholesaler-distributors to increase efficiency, boost performance and grow wallet share.
The technology gives your customers the ability to communicate with you and access information on their terms – whether through a digital assistant, their desktop, email, Skype, text or other platform – whenever and where ever they need it.
And that's why I predict that in the next year or so, chatbots will be in the hands of all progressive distributors. After all, your customers are already using them in their daily lives – to do everything from order pizza by texting an emoji to setting appointments.
Wholesale distribution companies have been a little slower than businesses in other industries to embrace chatbots, but they are beginning to get on board.
According to a report by Eyefortransport (eft), as of the fourth quarter of 2016, 79 percent of supply chain businesses reported they were not using chatbots at all. By the second quarter of 2017, the report found, 51 percent of those companies said they rely on chatbots in at least some aspect of their business.
The growing use of chatbots shouldn't be surprising.
With chatbots, your customers may never again run out of your product – or have to go online searching for it and possibly discover a competitor's offerings. Instead that customer can simply push a button and the product will be on its way.
Purchases are typically made by customers based on brand, cost and inventory levels. Chatbots can monitor, collect and communicate that information faster than human workers can. And, they can do it 24 hours a day, seven days a week. That's important in a market where your customers can be spread across multiple time zones, and where the supply chain rarely sleeps. Chatbots, of course, never sleep.
So, when a customer two time zones away has a question and your business day is over, that customer can still get an immediate answer.
Recently I spoke with a friend who owns a metal fabricating company. I asked him, "If your distributor could give you one thing you're not getting from them now, what would it be?" He said that was easy: He wants to know where his order is at any given time, and exactly when it will be delivered. Not to the day, or the hour, but to the minute. "I've got a team of workers waiting for that order. If it's not coming tonight, I'm going to send them home," he said. "But if it's five minutes away, I'm going to tell them to get a cup of coffee and get ready because we're going to be working late."
To get that information currently, that business owner will have to go to his office, log onto his computer, go on the distributor's website and try to find that information. Or, more likely, pick up the phone, call his sales rep – and get voice mail.
When you communicate through a customer-service chatbot, that information can be at the customer's fingertips – even when that distributor is not in his office at his desk – where distributors rarely spend the bulk of their time.
That happens because the chatbot will recognize the customer, will know where he is, what the order consists of, and what time it is in the customer's location. From there the chatbot will inquire within the system about the status, location and exact expected delivery time, and provide an answer. And that all happens immediately.
Chatbots can work for you internally as well, using the same information to increase internal productivity and decrease inventory errors.
All of which means chatbots are a game-changing technology, and one that forward-thinking wholesaler-distributors will find they can't be without if they hope to compete effectively in today's marketplace.
About Matt Petersen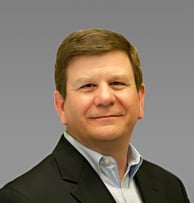 Matt Petersen is a Senior Director of Industry Solutions for ENAVATE and has spent his entire career in the enterprise software industry. Matt was a founding member of the SAP for Wholesale Distribution Industry Business unit and in 2014, he joined Microsoft to lead the U.S. Dynamics Retail and Wholesale Distribution Industry practice.
Matt has a Bachelor's Degree in Economics from the University of Illinois in Urbana - Champaign and a Certificate in Distribution Management from Texas A&M as well as a Certification from INSEAD in Business Strategy and Financial Acumen.