There are trends, like shag carpeting and fidget spinners, that briefly catch fire then quickly fizzle – and leave us all wondering what we were thinking.
And then there are trends, like the seismic shift from older, on-premise systems to cloud-based ERP, that are such good business that they undoubtedly will stick around for a long time. This trend is driven by the growing number of companies that have discovered the competitive edge to be gained by switching to cloud-based ERP.
Companies relying on a modern ERP platform are more likely to:
Deliver orders that are complete, and on time
See up-to-the-minute inventory numbers
Get key, decision-driving data faster
Meet internal deadlines
Grow profits
Those are just some of the reasons for a dramatic growth in the number of companies choosing a cloud-based ERP deployment between 2017 and 2018. In 2017, 6% of companies chose a cloud-based ERP deployment, and in 2018 that number had grown to 21%, according to the Panorama Consulting Solutions 2018 ERP Report. On-premise ERP deployment went the other way: 67% chose an on-premise ERP in 2017, and in 2018 the number fell to 15%.
Other business reasons companies are embracing being updated versus being outdated when it comes to ERP include:
Streamlined updating process
Cloud-based ERP simplifies the process of backing up data. With on-premise systems, complex data backup can require a maintenance plan, a variety of products and services, and, often, an entire IT team. But with cloud-based systems, regular backup happens daily, and is available to users. And it requires less dependence on IT teams.
Lower capital expenses maintenance costs
Because cloud-based ERP systems are hosted off site, there is no need to invest in additional hardware or personnel to operate them. According to a 2018 Keystone report, reduced ownership costs were the top reason companies switched to a cloud-based ERP between 2017 and 2018.
Tighter security
Initially, companies hesitate to move to the cloud because they weren't comfortable with cloud-based security. The reality today is that Microsoft-owned and -managed data centers are more secure than on-premise systems. In fact, better security is one of the top five reasons companies switch to cloud-based ERP, according to the Keystone report.
Mobility
In today's workplace, and with today's customer demands, your system needs to be accessible 24/7 – from locations both inside and outside office walls. With Dynamics 365, customers and team members can access the system remotely and across device types.
Greater connectivity
Distributors using older systems often have difficulty integrating with other solutions. Dynamics 365 Common Data Service eliminates that problem, by creating both new data models and apps with connected data.
Don't get left behind. If you haven't moved your ERP to the cloud yet, create your plan to modernize your ERP now.
About the Author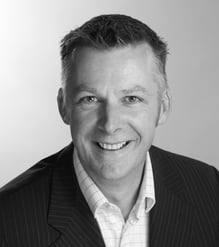 Patric Timmermans has been a marketing leader for more than 20 years after starting his career in technology as an ERP Architect with a Ph.D. and a M.Sc. degree in Engineering. Before joining ENAVATE as their head of Marketing, Patric held the position at Microsoft of global product marketing lead for Microsoft Dynamics 365 for Marketing. Named as a "Top 25 CRM thought leader" by CustomerThink and InsideCRM, he has been instrumental in the go-to-market of technology solutions at industry-leading technology companies as Product Marketing lead and as head of marketing. Patric lives in Seattle where he loves to cook and dance Argentine Tango when he's not traveling and adding countries to the list of 52 countries he has already visited.