I guess I am not the only one who has been confused about the versioning of AX. There have been numerous versions: 3.0, 4.0, 2009, 2012 and AX7. Now, it is called Microsoft Dynamics AX. That is pretty confusing and also a very bold decision.
Does it make sense to just call it Microsoft Dynamics AX?
A few months ago, I was watching a demo for one of our customers and for the first time in my 25+ years in the Dynamics industry, I was excited about an ERP product. ERP has never been the coolest thing compared to all the other technologies out there. However, it is maybe the most important piece of software a company has – it is the heart of the business. It has always been very transactional orientated. With the new version, it is a true business decision tool and the user face makes it very cool and user friendly to work with. I can't wait for our ENAVATE team to implement the new version, in the cloud of course.
Microsoft CEO Satya Nadella's trademark is "Cloud First" and we have seen a big push towards Microsoft Azure and now, the new Microsoft Dynamics AX. Back in 2002, Microsoft acquired the Danish company Navision, who owned AX and NAV. Now, both are key ERP products for Microsoft and what an interesting life they have had. It basically took Microsoft 10 years to launch a real Microsoft ERP product when they released AX 2012. AX 2012 was the first version where we really saw the potential of the product after Microsoft acquired the product.
Last year, Microsoft moved the Dynamics products under Scott Guthrie's Microsoft Azure team. What a great move! Many people asked me if that was a signal that Microsoft was exiting the Dynamics space and was concerned if they should invest in the product, either as a customer or as a partner/investor. I believe the opposite is true. The Dynamics family is now a $2B business for Microsoft and according to my insight, the most profitable business unit at Microsoft. In Microsoft's earning release FY16 Q2, Satya Nadella credited the 11% revenue increase in the Dynamics business unit with "contributing to our growth in the cloud". The fact that Nadella has started mentioning Dynamics is huge! A few years ago, Microsoft wouldn't mention Dynamics due to it's small significance.
So yes, I do believe that moving the Dynamics AX product to the Azure team is not only a great move but also a strategic move. We should expect a great future for Microsoft Dynamics AX!
Microsoft released the new AX version a few months ago, a version where the focus is Cloud. Currently, we have a Public Cloud, later this year we will get a Private Cloud, and finally, an on-premise solution in 2017. The product is also leveraging other Azure based products for their Big Data push: Azure Machine Learning, Azure Internet of Things, Cortana Analytics and Power BI.
What I believe is a testament to Microsoft's Azure investments, is the fact that SAP, Netsuite, Acumatica, Saleforce and others are also delivering their platforms on Microsoft's Cloud. Well done, Microsoft!
So, back to the question about versioning. Yes, it is confusing that the new AX doesn't have a version like AX7 as they called it for many years. However, I truly believe it is the new, big thing in technology. It is the AX product we have known for years who can beat SAP and Oracle on price, and still deliver the same functionality. Microsoft Dynamics AX can also beat Netsuite on price and functionality. Now, it is a complete Cloud architecture solution. I have to ask the question, why would you even go on-premise? You should stick to what your core business is and let us and Microsoft take care of your ERP.
That is why the new version can be called AX with no versioning!
About the Author - Thomas Ajspur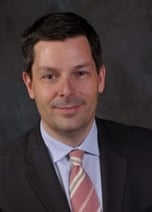 Thomas is a seasoned entrepreneur who began working with Dynamics 25 years ago as an ERP user and implementer, and then utilized it as the system to run his own business. In 1999, Thomas joined the Dynamics Professional Services industry with a focus on building ERP high performance organizations in Europe and the US and is known in the industry for selling large international AX deals. He is currently CEO of ENAVATE Holdings, LLC.