We all know Amazon's strengths:
Breadth of products
Ease of buying
Logistics superiority
World-class customer intelligence tools
Strong loyalty programs
Can you out-Amazon, Amazon? Simply put, no.
But if independent distributors understand where they are vulnerable (Amazon's five strengths above are a good place to start), they can start to identify potential opportunities to differentiate from Amazon and other digital giants. Figuring out where you might have a built-in advantage requires understanding the unique markets you serve, your product mix and the true value of your sales and service capabilities, from trusted relationships to your service offerings.
For example, many distributors have deep customer relationships and a high-touch, personalized sales and service model that is difficult to replicate. Customers can come into the branch and have a conversation about a problem they're trying to solve. Or a contractor can stop at a Will Call counter on the way to a jobsite to avoid any delay in getting what he needs to keep a project moving. One distributor I spoke to gives customers door codes to let themselves in for an ordered part if they come in before or after hours. This kind of immediacy is something that branch-based local distributors can do that Amazon can't, and distributors need to highlight that in their marketing.
Many distributors also sell complex, technical or customized products that are harder to sell in an online-only model and require in-house expertise to configure correctly. Distributors may also hold the rights to exclusive lines not available on larger marketplaces. They are also well-positioned to sell products that require special shipping and handling, such as hazardous materials, those that require regulatory compliance, and large or heavy hard-to-ship items. Smart distributors are also integrated more closely with their customers with vending or other inventory management services, or through procurement systems; for example, distributors that offer job trailers on a construction site or manage customers' storerooms have a distinct edge.
But as most distributors today know, these still may not be enough. Revenue and margin leakage to digital giants like Amazon is real. So that differentiated service must be combined with what has become table stakes in many distribution markets: a great omnichannel customer experience. To do this, distributors need to:
Effectively serve their customers in their preferred channel;
Know what their customers are buying from them;
Adapt quickly to new customer demands; and
Continually drive improvements to their operations to maintain the service levels their customers have come to expect.
With the average age of procurement teams going down, and expectations for a seamless digital experience going up, the time for iterative change is over. Distributors need to move swiftly.
Distributors must invest in the right technology backbone to sustain the edge they have in relationships, service and knowledge. They need the right ERP, CRM and ecommerce platform backed by the cloud for the agility required to scale up or down. They need technology that allows them to react quickly to new market conditions.
Download our free ebook for your complete guide to competing with Amazon: The 8,000-lb Gorilla of Wholesale Distribution: How the Technology Choices You Make Today Will be Critical in Helping You Compete with Amazon.
About the Author - Matt Petersen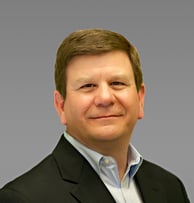 Matt Petersen is a Senior Director of Industry Solutions for ENAVATE and has spent his entire career in the enterprise software industry. Matt was a founding member of the SAP for Wholesale Distribution Industry Business unit and in 2014, he joined Microsoft to lead the U.S. Dynamics Retail and Wholesale Distribution Industry practice.
Matt has a Bachelor's Degree in Economics from the University of Illinois in Urbana - Champaign and a Certificate in Distribution Management from Texas A&M as well as a Certification from INSEAD in Business Strategy and Financial Acumen.