With every potential transaction, today's buyers are inundated with companies vying for their attention. The overcrowded market has made earning and sustaining customer loyalty increasingly difficult for the wholesaler-distributor.
What's more, Amazon has set the standard for the buying experience. Not only can customers find an exhaustive product selection, but the platform's intuitive design offers product recommendations, quick-reorder capabilities and fast delivery options. Add in loyalty programs like Amazon Business Prime and it's easy to see why the giant made up a staggering 43% of online sales worldwide in 2017, according to an estimate by analytics firm Slice Intelligence. The B2B arm of the business, Amazon Business, has indicated it's prepared to invest in the B2B distribution market with expectations of little to no profit return for 5-10 years. How can you compete with that?
To identify your vision and place in this market, and compete successfully against Amazon, start by asking yourself these three critical questions:
Why do your customers do business with you today?



Do your unique product mix, service and support capabilities differentiate you? Your ability to offer complex solutions and lifecycle services may be invaluable to your customers. The key is to leverage that specialized care with technology for the omnichannel sales and service experience customers are looking for, especially in the digital space.


What are your customers' plans for buying from Amazon and other disruptors?

The risk of Amazon encroaching on the large enterprise and mid-market sector is already here. Procurement and purchasing officers in larger organizations are seeking the ease of purchase they've grown accustomed to. Smaller customers are not far behind. Developing faster delivery options, simple order processes and loyalty programs combined with your already built-in advantages will help you challenge Amazon and build a wall around your customers.


What needs do your customers have that aren't currently being fulfilled?

With companies clamoring for your customers' attention, how can you create more value and loyalty with your existing buyers? Use a SWOT analysis (Strength, Weakness, Opportunities, Threats) to identify opportunities to become more agile to meet the needs of your customers and ultimately

provide a better experience

. Your ERP, CRM and ecommerce platforms can help you mine this important data. With insight at your fingertips, you'll be able to anticipate your customers' needs in the future and drive market change — rather than simply reacting to the competition.
You may not be able to out-Amazon Amazon, but you can fight back through the value of your sales and service capabilities. Are you providing the value and experience your customers need, or are you risking losing their loyalty altogether?  
Create an exceptional experience for your customers that will help you compete today and grow your distribution business tomorrow. Learn more about Amazon's impact on wholesale distribution and the technology solutions you can use to fight back in this free Enavate ebook.
About Matt Petersen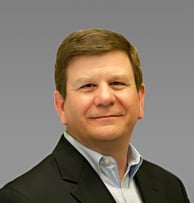 Matt Petersen is a Senior Director of Industry Solutions for ENAVATE and has spent his entire career in the enterprise software industry. Matt was a founding member of the SAP for Wholesale Distribution Industry Business unit and in 2014, he joined Microsoft to lead the U.S. Dynamics Retail and Wholesale Distribution Industry practice.
Matt has a Bachelor's Degree in Economics from the University of Illinois in Urbana - Champaign and a Certificate in Distribution Management from Texas A&M as well as a Certification from INSEAD in Business Strategy and Financial Acumen.