How does it feel to have hit the five-year anniversary of ENAVATE?
Jeff Bezos once said, "All overnight successes take 10 years." So we have 5 more years to go. I am really proud at how far we've come. Back when we started, people said we wouldn't survive. And now we're the talk of the town. People admire what we're doing, especially as it pertains to culture. It wasn't always that way. In our second year, most of our team members weren't happy, and the business wasn't profitable. And when I brought everyone together to create a vision through 2020, they asked, "Why are we focusing on 2020, when we can't make payroll Friday?"
We needed a shared dream, and people needed to know why they're here. The team worked together and created our vision. At another meeting, I brought photos of roller coasters and a merry-go-round. The merry-go-round is a lot like larger companies – steady, reliable, predictable, but you're just a number and you can't make a real impact. We were going to be like a roller coaster – going up and down, but we'd have fun and we'd build this together. Most importantly, they could have an impact at ENAVATE and the world, transforming businesses and the lives they touch.
Soon the company turned a corner. We became profitable two months later, and we've been profitable ever since. And our Glassdoor rating, which measures team member satisfaction, has grown from 1.6 stars to 4.4 stars.
That is why I am now so committed to sharing all company information, to empower team members and to live our core values. When they are empowered, people understand that they can make an impact.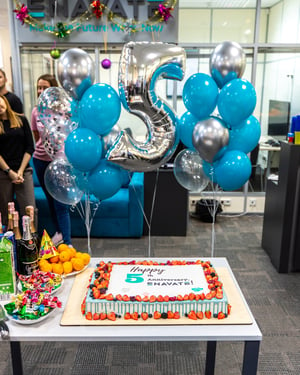 Your employee empowerment journey has been a big reason why ENAVATE is thriving. How has an empowered team helped your customers?
When you buy a car, you talk with a sales guy in the lot. He offers you $1,000 off of the $30,000 price tag. You counter with $27,000. To do that, the sales guy has to go back and talk with a manager. But I don't want to talk to the sales guy if he can't make his own decisions; why is he there? He loses credibility when he can't make decisions that are in the best interest of the business and the customer. I would rather talk directly with the manager.
In our case, we want the customer to know that we're all making decisions in their best interests, and the team members are empowered to do what is right for them. For the delivery team, what that looks like is that they can challenge our customers and not just accept what they say they want. And instead, they will work closely with them to determine what they need. Customers feel more valued when our team members are putting all their energy into doing what they need to deliver the best product. Our customers have more confidence in the team. They have buy-in.
What's your next five years look like?
We're focused on bringing a fresh perspective to the world of ERP implementation. Everyone is tired of ERP implementations. We are tired, too. People just accept that most ERP implementations fail, that companies don't get what they want out of technology. We want to flip that, and drive more successes than failures. To do that we need to get to the raw truth about why implementations don't work, and we need fresh solutions. This will take time, and we are dedicated.
ENAVATE will continue to grow organically and through strategic acquisitions. Microsoft will change direction. The market will shift, and our clients will evolve. We need to be a part of that and be ready to adapt. At the same time, we will stay focused on our goal. We will continue to head in the same direction. The most essential part of our vision will always be building a culture that can do that.
And I look forward celebrating the 10-year anniversary, the day we became the overnight success.