Alarming as Amazon's incursion into B2B markets may be, it is not the only factor causing upheaval for wholesaler-distributors. Distributors are facing shrinking margins and increasingly complex operations.
To survive and keep up with these rapid changes, distributors' operations must be agile.
That means having the technology to meet your customers on the channel they want to be, whether that is on a website, a smart phone, mobile app or in a face-to-face meeting with a salesperson. The same is true of existing customers – you can't risk losing them to a competitor who offers accessibility on a greater variety of platforms.
The technology you need to best serve customers can serve you, too – by providing a breadth of information that allows you to dive into your business data to find answers to questions you didn't even know you had.
For instance: As important is it is to know what customers are buying from you, knowing what they aren't buying from you may be even more important. Why? Because they're probably buying it from someone else. Using technology to help you understand what your customers are buying elsewhere, and why, gives you the visibility you need to develop deeper relationships and quickly adapt to customers' changing demands.
At the same time, successful distributors need to continuously work toward operational excellence, including fulfillment speed, quality of service and customer self-service capability.
The bottom line: Distributors that don't leverage technology to keep up will lose market share and be easy prey for companies like Amazon. But even keeping up may not be enough in a business climate that seems to evolve daily. As Amazon advances, your business can't afford to simply react. You need to be a driver of the change. A cloud-based technology backbone is required for the agility you need to get there.
Make your company more agile with the right technology and create a roadmap for sustainable growth to compete against Amazon. Get some ideas from our free ebook: Download now.
About Matt Petersen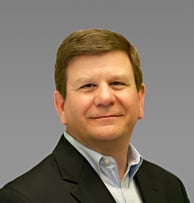 Matt Petersen is a Senior Director of Industry Solutions for ENAVATE and has spent his entire career in the enterprise software industry. Matt was a founding member of the SAP for Wholesale Distribution Industry Business unit and in 2014, he joined Microsoft to lead the U.S. Dynamics Retail and Wholesale Distribution Industry practice.
Matt has a Bachelor's Degree in Economics from the University of Illinois in Urbana - Champaign and a Certificate in Distribution Management from Texas A&M as well as a Certification from INSEAD in Business Strategy and Financial Acumen.