We're all facing a global crisis right now, and it's affecting most companies in one way or another. Many have chosen to shift workers out of communal offices and into work-from-home situations, which may or may not be a first for many.
While many ENAVATE team members work remotely 100% of the time, others are facing a new challenge in their day-to-day work lives. The good news is that ENAVATE is well equipped with the tools and technology to make working from home as productive and secure as possible, and continue to provide excellent service to our customers and partners.
Not only that, but ENAVATE is relying more than ever on its core values of taking care of our team, evolving and innovating, achieving results and maintaining integrity. In times like these, it's integral to navigate change together.
Here, we'll share a few ideas and technology tips for shifting the company to a remote environment.
Make a communication plan.
In the face of crisis, team members look to their leaders for information and guidance. It all starts with strong communication from the top down. When work situations or demands shift on a global level, as they are for many businesses, it's important to enact a communications plan with the team, as well as throughout leadership, so that team members feel that they are not alone in navigating unfamiliar or uncomfortable territory.
At ENAVATE, we started planning and communicating with team members and customers about Covid-19 in late February. We established a Corona Situation Pod, which consists of team members from across the business, so that they can keep the pulse of the organization and provide recommendations. We've implemented weekly All Hands Calls to keep our team updated on what's happening within each of our global regions, the status of our business, and Q&A – nothing is off limits. This week, we invited an executive coach to speak with our team about managing emotional wellness during uncertain times. We've been told by our team that the more we communicate, the better.
Ensure team members have

the tools they need

.
One of the challenges of quickly moving to remote working is to make sure team members have the tools and access they need. Many of our team brought monitors and other peripherals from the office. Some required assistance from IT to be set up on the Virtual Private Network. Ensure that team members, customers, partners and suppliers have the access to applications they need. This might also involve authentication methods such as PIN or biometric sign-in credentials, or multi-factor authentication through Azure or other platforms. To learn more about secure user sign-in with Azure, check out this tutorial.
Manage multiple devices

.
Your team may be using a variety of different devices to stay connected, from Windows to Mac and iOS to Android. In a remote-work scenario, it's important to support all the devices team members may be using to get connected. For example, Microsoft uses Microsoft Endpoint Manager (MEM), which offers a self-service enrollment to join Azure AD and access company resources securely. For more on MEM, check out this documentation. This might be a good time to put together webinar tutorials about how to connect from various devices, so that people have the support they need when evolving their day-to-day work routines.
Share productivity resources

.
It's important to offer easy ways for team members to collaborate and work productively from wherever they are. Applications like Outlook mobile, Microsoft Teams and OneDrive make it easy to connect on a range of devices. If your company has moved to the cloud, even better — it makes accessing files, real-time collaboration and saving work even easier, especially among a distributed workforce. Other productivity tools may include apps for generating white noise to help with concentration, or having opportunities to check-in with teammates throughout the day — much like a virtual catch-up over the cubicle wall. This might be a weekly video meeting, or a messaging app channel dedicated to working from home. Come up with a plan for your company or department, and try it to see how it feels.
At ENAVATE, our team has even gotten creative in using Microsoft Teams to host virtual happy hours, virtual lunches, and a virtual "kitchen" where team members can log on at any time and have a breakroom chat when they need. We're also having fun with the challenges that working from home with pets and kids provide. We've encouraged the team to share their funny video call moments on our internal Facebook group in order to lighten things up a bit.
Be thoughtful about meetings

.
During a widespread disruption, people may be scrambling to identify their new normal. That means juggling kids and pets at home and setting up workspaces wherever they can find a spare surface and an electrical outlet. Set standards and streamline processes for meetings, such as choosing Microsoft Teams for every meeting, or having a set conference call line for every department. Be flexible with team members who may request to have meetings recorded to review later, and be generous with tips from those who have done it successfully. Overall, be gracious and understanding as everyone is discovering their new normal in this new work environment.
Care for the

company

culture

.
In times of transition, especially when it comes to working separately from their teammates, team members may be especially vulnerable to anxiety and isolation. Keep with your company values, and don't overestimate the power of leadership. Be transparent about sharing information while staying optimistic about the future. Consider ways to drive engagement remotely, and empower team members to build communities across teams. You may even set up a special channel on your collaboration tools dedicated to tips and tricks for successfully working from home.
One ENAVATE team member, Mark Shepard, suggests getting into a routine right away. "Have a dedicated workplace away from household distractions," he says. "Treat each day/morning as if you were going into the actual office. Get up, shower, [get] dressed … Get as close to your old morning routine as possible."
Another idea from the ENAVATE team is to turn your former commute time into stretching time. We tend to sit in one place a lot more when working from home vs. walking around an office. Finding an app with 10-15 stretches might help work-from-home folks feel better.
Making the transition to working from home can be challenging, but with the right systems and support in place, it can be a smooth shift.
Looking for tips to manage a sudden change in your business operations? ENAVATE can help.
About the Author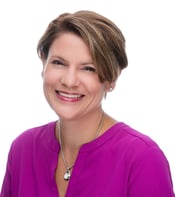 Holly has over 20 years of experience in global executive-level human resource development. Holly served as the Chief People Officer at Tribridge, a global technology company. As an executive at Tribridge, Holly led multiple Mergers & Acquisitions, as well as the acquisition and integration of Tribridge by DXC Technology in 2017. Prior to joining Tribridge, Holly served as VP of Human Resources for a broadcast facilities company, where she worked as part of the executive team to integrate employees and systems from several companies as a result of a multinational acquisition. She also held director-level HR positions for audiovisual integration and B2B media companies. Holly is designated Senior Professional in Human Resources (SHRM-SCP), certified in the Leadership Circle Profile and Leadership Culture Survey programs, and holds a Bachelor of Arts degree in Sociology from Georgia State University.