Agility, adopting technology that focuses on the customer experience, and tuning into what your customers need (and why you are the one to fulfill those needs) are necessary to stay relevant in today's increasingly competitive market.
But what kind of technology does your company need to mine the customer insights you need to do this effectively?
A sharable data system. Your team needs easy, real-time access to customer data. That data also needs to be accessible across your applications. In addition, distributors need Product Information Management (PIM) that is updated in real time between ERP, e-commerce and catalogs.
Ability to handle new data types. As technology changes and customer needs change, distributors' systems need to be able to handle data types like product images, voice, videos and reviews.
Business Intelligence (BI) Dashboards. Easy to-use BI dashboards give your employees the information they need to gain insights into customer behavior, make informed decisions and drive more value to your most profitable customers.
Machine Learning and Artificial Intelligence (AI). This technology gives your team the power to forecast demand, predict future purchases, recommend products for cross-selling and upselling and create dynamic and accurate consistent pricing models.
Advanced cloud technologies. Chatbots and cognitive services can help you drive competitive advantage in customer service.
Distributors that don't leverage technology with robust analytics capabilities will, simply put, lose customers. The ideas in our free eBook on competing with Amazon can give you the information you need to stay in the game: Download now.
About Matt Petersen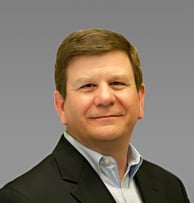 Matt Petersen is a Senior Director of Industry Solutions for ENAVATE and has spent his entire career in the enterprise software industry. Matt was a founding member of the SAP for Wholesale Distribution Industry Business unit and in 2014, he joined Microsoft to lead the U.S. Dynamics Retail and Wholesale Distribution Industry practice.
Matt has a Bachelor's Degree in Economics from the University of Illinois in Urbana - Champaign and a Certificate in Distribution Management from Texas A&M as well as a Certification from INSEAD in Business Strategy and Financial Acumen.