The global COVID-19 pandemic has affected everyone, spanning borders and industries, and disrupting personal and professional lives. Navigating this much change, this rapidly, is not easy. Now is the time lean on each other and critical technology.
At ENAVATE, we understand how a combination of strong culture and smart technology can help you stay connected and remain agile during these challenging times. Here, we share six tips for conquering change in the midst of a crisis.
1) Improve how you — and your data — communicate.
When people — employees, customers or partners — feel disrupted, workflows can slow and anxiety can escalate. Share the facts and be as transparent as possible by communicating the problem but focusing on solutions. Using whatever platforms are available to you, communicate openly and regularly with your team and customers, which can instill a sense of calm.
Communication also applies to the technology and applications you use. By unifying your data across your office, CRM, and ERP applications you can unlock insights and the power of personalized experiences that mean so much when supporting your team and customers in this rapidly changing world.
2) Review your technology stack.
No one is immune from the impact of our current global crisis. Organizations were suddenly thrown into a new way of operating, communicating and serving their customers. Being tied to on-premise systems is more challenging than ever. As one example, Microsoft reported that the government's use of public Power BI to share COVID-19 dashboards with citizens increased by 42 percent in one week.
Now might be the time to review your existing technology stack so you can be better prepared to make business shifts going forward. Investing in technology can benefit your business by:
What solutions — cloud-based or otherwise — might exist to help you more easily adapt to a crisis and provide better business continuity for your team and customers?
3) Make working remotely more accessible.
Trying to stay productive during a crisis requires that your technology adapt with you, such as when a sudden influx of workers all need remote access at once. Are your current tools and business systems agile enough to handle a complete change in the way you and your team works?
Utilizing cloud technology helps you stay more connected with your team, and better serve your customers. CNBC reported that over 44 million people are actively using Microsoft Teams on a daily basis — a number which jumped significantly in March 2020. Consider how you can provide the right tools to your employees to stay productive and connected in a world where many of us are more physically separated than ever.
4) Prioritize analytics for better business continuity.
Now more than ever, you need to lean into your data. Forecasting and financial control in this turbulent economy is critical. Making accurate and quick decisions is crucial to coming out stronger than ever.
Collaborative business intelligence tools deliver insights to help you monitor the health of your business, identify your best customers and seek out low-hanging opportunities for improvements in cash flow or efficiencies in inventory. Power BI is one such tool. In fact, a Forbes article reports that 48% of organizations say cloud BI was either "critical" or "very important" to their operations in 2019.
Harvard Business Review shares another example of a large medical center using data to accelerate business strategies "by improving the processes and empowering the people needed to execute them," eventually saving tens of millions of dollars on compliance costs and fines.
When you make the most of the data available to you, you can better forecast what's ahead and plan for future cash flow.
5) Look for new opportunities.
Sometimes, conquering change means adapting your business model. Are there opportunities to provide new solutions during a crisis? Organizations that can meet abrupt challenges effectively can evolve and succeed. Can you evolve your service offering?
These days, we're hearing about manufacturers who are pivoting from making cars to making ventilators, or distilleries that are turning their raw alcohol into hand sanitizer.
Microsoft is also making that pivot, allowing organizations to utilize its powerful platforms to help quickly create custom applications so users can better meet changing demand. Late last month, Microsoft released a Crisis Communication Power Platform app designed for managing communications as an emergency response tactic. Thousands of customers have already begun to employ their solution.
Consider what ability and experience your teams have to develop new apps, platforms, products or tools to help solve challenges today.
6) Don't panic.
A global pandemic or other crisis feels out of our control, but there are ways to navigate the turmoil and conquer change. First, remember to breathe. No, really; take a moment relax your shoulders and practice an easy meditative technique to help reduce your stress. Connect with friends and trusted partners to help guide you through these uncertain times personally and professionally. You have handled the unknown before. Don't panic – try to focus on things you enjoy and can control.
In these challenging times, ENAVATE is supporting clients and their rapidly changing business needs with transformational cloud solutions. As a Microsoft Gold Partner, we are committed to bringing next-generation software solutions and services to organizations worldwide. Partnering with organizations to provide implementation, upgrade, and managed services, ENAVATE delivers the resources and technology to help increase profitability, grow sales, and transform the processes of your business now and in the future.
Download the infographic of this blog post
Let's conquer change together. Connect with us about how we can help you navigate these complicated and often trying times.
In addition, check our recent related blog: When Work Changes: Empowering Success in Remote Work Environments.
About the Author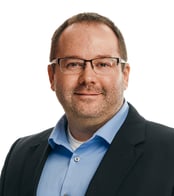 Eric brings 15 years of experience in leadership and operations. Most recently, Eric was COO of Cascade Healthcare Services where he was responsible for day-to-day operations driving Cascade to record revenue and EBITDA. During his time as Vice President of Operations at Intrado, a global leader in technology-enabled services, Eric focused on developing, supporting and driving goals while leading a customer-focused operations team more than 100 strong. Eric holds a B.S. in Business Administration from Colorado Christian University and an MBA from Colorado State University.