High-growth distribution companies can no longer rely on shoe leather and a rep's product knowledge to drive sales. Winning companies know that data-driven sales efforts are the most efficient, and most productive.
Recently, sales and marketing research firm TOPO studied companies with high sales growth. They found that sales reps at those companies received 60 percent more support — including lead qualification, operations and sales enablement — than those at low-growth companies.
The meaning is clear: When it comes to sales productivity, data matters.
Tools have emerged that make it far easier for distributors to get these benefits without spending hours pulling data and crunching numbers. For example, Microsoft Relationship Sales combines the power of Dynamics 365 for Sales with LinkedIn Sales Navigator, to give salespeople critical data on 500 million professionals. That kind of data helps salespeople focus, immediately, on an organization's key decision-makers. And it means top salespeople spend more time engaged in activities that could lead directly to increased sales – rather than devoting huge chunks of time tracking down the best contacts and qualifying leads.
In fact, with that kind of intelligence guiding their efforts, top-performing reps can spend more than 65 percent of each day reaching out to qualified, potential customers, compared with 43 percent of time spent in such productive conversations for sales reps who don't have that information.
And Microsoft Relationship Sales goes further, using new technology like AI and machine learning to highlight the leads most likely to be converted into sales. The data can also provide recommendations for upselling and cross-selling opportunities, as well.
But as any effective sales rep knows, the challenge doesn't stop with reaching the decision-makers. Because once contact is made, relationship building starts, and a sales rep must earn a customer's trust. One of the most effective ways to do that is through understanding the challenges that customer faces and offering a solution that eases those challenges.
That's one area where today's reps have an advantage over their predecessors. For example, using Microsoft Relationship Sales, today's reps gain product knowledge that can be enhanced with real-time sales enablement solutions and content that anticipates customer questions and concerns. They can even monitor a customer's activities on the customer's behalf, including:
Emails
Social media postings
Shared content
Activities in online forums
Level and frequency of interaction with your company
In other words, a sales team with the right data in its toolbox can be more than just a sales team. They become valuable problem-solvers for your customers. And if you want to compete against giants like Amazon, that's the only way to get ahead.
About the Author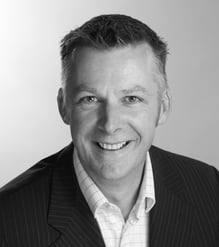 Patric Timmermans has been a marketing leader for more than 20 years after starting his career in technology as an ERP Architect with a Ph.D. and a M.Sc. degree in Engineering. Before joining ENAVATE as their head of Marketing, Patric held the position at Microsoft of global product marketing lead for Microsoft Dynamics 365 for Marketing. Named as a "Top 25 CRM thought leader" by CustomerThink and InsideCRM, he has been instrumental in the go-to-market of technology solutions at industry-leading technology companies as Product Marketing lead and as head of marketing. Patric lives in Seattle where he loves to cook and dance Argentine Tango when he's not traveling and adding countries to the list of 52 countries he has already visited.