ERP is the software that you use to manage your business, integrating applications that manage and integrate your financials, supply chain, operations, reporting, manufacturing and human resource activities.
If you're reading this article, you are feeling the pain of your existing ERP system not being able to keep up with growth and customer needs.
Before you even get started identifying a new ERP software provider for your business, make sure you've done a deep dive and know where your organization's Enterprise Resource Planning (ERP) system capabilities stand today. Examine the current customer experience. Take insights into consideration – do your teams operate in silos?
Detail requirements for core business processes, including financial management, inventory and warehouse management and more. Make sure reporting and data analytics needs are clear. And understand the valuable time workarounds have taken from your team, which should help you understand where opportunities for greater efficiencies lie.
If you've analyzed your current state and have identified gaps in existing technology and processes, congratulations. You have done the hard work.
It's time to look to the future. Here are the next three steps to help you narrow down your list of potential modern ERP solutions and providers.
Step 1 – Make a list of priorities for new ERP software.
Ensure your list of requirements is clear for new ERP software. As with any significant purchase, cost will be determined by the number of must-have features. When prioritizing your list, a breakdown by section could include the following:
On-premise vs. Cloud. If you're currently using an on-premises solution, the cloud could provide significant benefits, enabling your business with greater efficiencies, improved productivity and increased profitability. Forrester recently found the ROI of moving to the cloud from legacy on-premises ERP systems was up to 60%.
Financial Management. Does the system help you meet regulatory compliance? Does it deliver accurate data and analytics to help you keep an eye on your budget, including cash flow management, bank transactions and multiple currencies in real time?
Customer Experience. How can you deliver on customers' must-haves, such as visibility into deliveries from order to completion? If ecommerce is a requirement, what do you need for online ordering? Do you want interactive customer service options like chatbots?
Productivity. How will your solution improve your supply chain? Will it significantly reduce manual work? For example, will it provide operations managers visibility into SKUs, purchase confirmations and inventory dashboards? How does your ERP connect with transportation-tracking systems? Is sales getting the insights they need to spend time on the right customers and offer the right products? A modern ERP can improve productivity across your organization, speeding decision-making and keeping your team's focus on the right things.
Business Intelligence. How can you benefit from AI and dashboards to make better decisions?
Integration. What core systems will you need to integrate with the new ERP system?
These are just examples. Every business is different. The more detailed your list, the better.
Step 2 – Compare capabilities and set your budget for ERP.
What do you need, and what do you want? Start with the cost of supporting and maintaining the system and then look for any hidden fees along the way.
Review and add the following details for systems and providers to your prioritized requirements list.
Is your ERP System requirement:
included with the out of the box software?
available with customization?
available with integration to third-party software?
going to be available in the future (and in what timeframe)?
unavailable?
Step 3 – Ask questions.
To further narrow your list, get some advice. Ask your peers in your industry what they are using and why. You may gain some of the needed comparison information through a Request for Proposal (RFP) process or simply by working directly through a trusted solutions partner like ENAVATE, which specializes in industry-specific ERP and technology solutions from Microsoft, including for wholesale distribution companies.
Have potential solution providers walk through how they address your requirements with you. At demo time, include key members of your teams to ensure visibility into the processes from sales to fulfillment, and buy-in to the process.
If you're looking to move from on-premises to the cloud, but have questions about security and the cloud migration process, contact ENAVATE.
Finally, what's the ROI of the new ERP system? Review the total cost of ownership, including upfront fees and ongoing expenditures. Will a new system fulfill orders faster, and on time? Can you better predict inventory or market needs? Will this enable your organization to expand into new markets? How much is your existing legacy ERP system costing you?
Keep in mind additions or upgrades for changes you may be planning to ensure that the system you choose can accommodate your company's future needs, as well as present ones.
Learn about Microsoft Dynamics 365, with intelligent business applications that give you choice as your business grows.
About the Author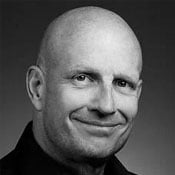 Ole has spent nearly four decades in technology, with a history of success leading growth for resellers for Microsoft, IBM, Hewlett Packard, and Oracle. In 1995, he joined Damgaard Data to build a channel for Concorde XAL and Axapta (now Microsoft Dynamics AX and Dynamics 365 for Finance and Operations). Ole served as Partner and Vice President for Columbus IT, a major Microsoft AX reseller, followed by Evergreen Data Systems, Inc. and EFS Technology, supporting both Microsoft AX and Oracle technologies. Ole lives in California and he loves crossfit and indoor cycling.